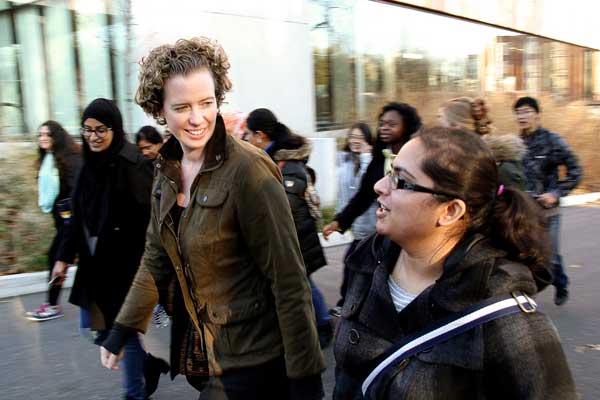 2016: rethinking undergraduate education
"Research is often framed in the public mind as a noun, as a product," Susan McCahan, vice-provost, innovations in undergraduate education, said in her office in Simcoe Hall, a few steps away from her other home at the Faculty of Applied Science & Engineering. "We produce research, something in a package that we send out the door."
"But we in the academy think of research as a verb. It is process, a way of thinking, framing questions, answering questions, connecting new ideas. Those are processes, not products."
It is a distinction worth making at a time when research is widely viewed as an important means of enhancing and even rethinking undergraduate education – and, reciprocally, tapping into the vitality of gifted young students.
Examining the potential of research as a component of  undergraduate education will be the focus of the Undergraduate Research Working Group, a tri-campus, cross-disciplinary committee that convenes for the first time in January 2016.
"We want to look at the programs that we can put in place that will support new capacity-building in this area," McCahan says. Among the members, of course, will be students.
How students and faculty find each other is one issue. Serendipity is not enough. The recently established online Co-curricular Record is a mechanism for students to build resumes and find clubs and activities of interest. It works also as an academic matchmaking engine.
Funding is another question. Certain established programs, such as Advancing Teaching and Learning in Arts & Science (ATLAS) and the Centre for Community Partnerships, can support courses with a research component, and some departments have budgets for undergraduate field work. But there is no central university-wide mechanism for the support of undergraduate research.
The scope for such activity has its limits. Not all undergraduates have research capacity in their first two years and not all third- or fourth-year students enrol in courses dedicated to independent research.
And the reality is that graduate students are fundamental to research support. "How many [undergraduate] spots can we make available?" McCahan asks. "Your bread and butter is how many PhDs you produce."
Where there is no barrier is in the introduction of the concept of research into undergraduate education as path to critical thinking.
Other innovations in undergraduate learning continue to be explored: Massive Open Online Courses (MOOCs) have a confirmed place in the future of education and the success of "one" programs, convening small groups of students in their first year, is well documented.
Many courses – introduction to psychology is the classic example – will remain heavily subscribed. This does not mean they have to be impersonal. Steve Joordens, a psychology professor at  U of T Scarborough was named  a 2015 3M National Teaching Fellow in part for his development of peerScholar, an online software package that enables feedback among students.
"The model allows students to help each other," Joordens says. "We literally have students trying to help other students get a better mark, which is great because it gives everyone a reason to buy into the process."
Not all innovations are based on technology. Fiona Rawle, an associate professor, teaching stream of biology at U of T Mississauga, was one of four faculty members to receive the first-ever University of Toronto Early Career Teaching Awards. One of her teaching tactics is to assemble students in the classroom into a giant DNA string.
"Professor Rawle defies all stereotypes of university professors," said Ashna Khanna, a biology for health sciences and psychology student who ended up doing research under Rawle's supervision.
Adding research to the pedagogical mix can only enhance the comprehensive undergraduate experience.
"I'm not just teaching astronomy that's written in the textbook," says Mike Reid, astronomy and astrophysics lecturer, coordinator of public outreach and education for the Dunlap Institute and another Early Career Teaching Award winner.
"I'm teaching the work my colleagues and I are doing right now – about papers published last week, about the discoveries we are on the cusp of making. I think that goes a long way to motivating students to learn."
The Reid approach worked for Jesse Hildebrand, a young alumnus who went on to found Science Literacy Week. "Mike conveys the sort of enthusiasm you dream about from all teachers," he says. It is worth noting that Hildebrand was a student of ecology and evolutionary biology, not astronomy.
"I call it transferable expertise," McCahan says of the kind of thinking research awareness can cultivate. "The ability to connect ideas in different contexts and transfer them from one frame of reference to another.
"That, I think, we are doing in many courses. We want to do more of it. And we have an aspiration to find a way to measure some of it, a way to know if the kinds of programs – such as summer research programs and independent research courses – that we're putting in place are having a positive effect."