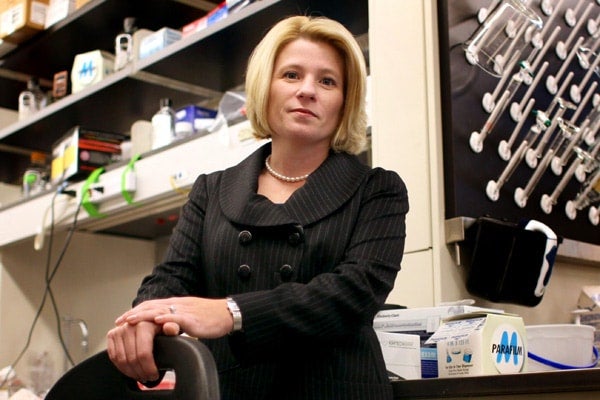 2011 Steacie Prize awarded for nanotechnology-enabled disease diagnosis
Pharmacy's Shana Kelley third consecutive U of T professor to win prestigious science and engineering award
Professor Shana Kelley of the Leslie Dan Faculty of Pharmacy is the winner of the 2011 Steacie Prize, marking the third consecutive year that a University of Toronto professor has received this prestigious award.
"It's wonderful and at the same time humbling to get this type of recognition – which is really recognition of the talents of all of the past and present members of my research group," said Kelley, who is also a professor in the Department of Biochemistry in the Faculty of Medicine and cross-appointed to the Department of Chemistry and the Institute of Biomaterials and Biomedical Engineering.
Kelley's research centres on the development of nanomaterial-based detection systems that can track miniscule quantities of biomolecular analytes [components]. The highly sensitive DNA and RNA detection systems developed by Kelley are powerful new tools for cancer and infectious disease identification, and represent a major advance over the current time consuming and painful methods.
Using small, non-invasive samples, Kelley's diagnostic tool is able to identify minute levels of the biomarkers of disease. This technology is able to provide disease diagnosis at a fraction of the costs and in a fraction of the time of current methods, and is able to do so ten times earlier than current practices allow.
"I can think of no other more deserving candidate than Dr. Kelley to receive the Steacie Prize," said Professor Henry Mann, dean of the Leslie Dan Faculty of Pharmacy. "She is a highly creative and interdisciplinary scientist who unites materials chemistry, analytical chemistry and molecular biology to sense biological molecules with unprecedented sensitivity. Her proven track record of executing innovative and groundbreaking research certainly aligns her work with the goals of the prestigious Steacie Prize."
The Steacie Prize recognizes outstanding Canadian research in science and engineering. Winners are selected by a panel appointed by the E.W.R. Steacie Memorial Fund, a private fund dedicated to advancing science and engineering in Canada. 
"Professor Kelley's research has always been on the cutting edge of nanotechnology," noted Professor Paul Young, vice-president (research). "Her work developing fast, low-cost methods for disease detection and diagnosis will save lives across the world. We've always been proud to have Professor Kelley as a faculty member at the University of Toronto and on behalf of the institution, I extend my congratulations to her on winning the Steacie Prize. It is richly deserved."