With 14,000 titles, U of T Mississauga's Syd Bolton Collection takes video game studies to the next level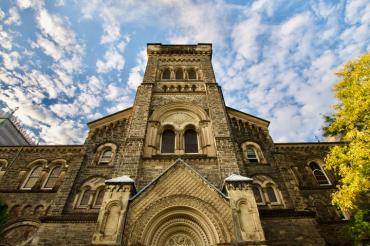 From Space Invaders to Super Mario, video games are one of the most influential forms of media on the planet.
They've enchanted gamers around the world for nearly a half century and influenced mass culture with their pioneering inventions in aesthetics, storytelling, music and graphics. 
"They're arguably the largest entertainment industry in the world – with a huge impact on everyday life," says Christopher Young, the head of collections and digital scholarship at the University of Toronto Mississauga Library. "Video games were the canary in the coal mine for digital life.
"Everything we're doing today, using phones and interactive technology – games paved the way." 
Yet, video games have been difficult for academics to study. Scholars trying to research a 25-year-old game were often out of luck since video games were almost never collected by libraries. That's because many viewed games as disposable consumer products as opposed to crucial pieces of art and culture. 
At U of T Mississauga, that all changed in 2020 when it acquired its Syd Bolton collection, one of the largest, most comprehensive academic video-game collections with over 14,000 titles. The collection was put together by its namesake – a computer programmer in Brantford, Ont. who spent decades filling his home with long shelves jammed full of games before his death in 2018.
"There are only a few places in the world, let alone North America, that have a collection of this size," says Young, who is serving as the collection's first curator. By contrast, the U.S. Library of Congress boasts only 7,000 games.
Furthermore, U of T Mississauga now has games ranging from iconic, famous titles – like the Atari 2600's Space Invaders or Super Mario 64 – to rare, deep cuts that sold only handfuls of copies. 
Christopher Young works on a game cartridge from the Syd Bolton Collection (photo by Nick Iwanyshyn)
U of T Mississauga's collection also includes dozens of different video-game consoles required to play the games, including every version of the PlayStation, Xbox and Nintendo consoles issued up to 2018. There are also several rare consoles, including the Panasonic 3DO. 
The academic study of video games is now booming as generations of students and scholars who grew up playing the games are eager to explore everything from the history of game-interface design to gender representation in marketing materials and the business side of gaming. U of T Mississauga is even considering launching its own game studies program, Young notes. 
"This collection would be the foundation on which all those activities would be built," he says. 
U of T academics are already envisioning ways they'll use the collection. Siobhan O'Flynn, an assistant professor, teaching stream, in U of T Mississauga's department of English and drama who specializes in game studies, teaches a class in which students learn about game history and game ethics while designing their own games. She says the Syd Bolton collection will let her students actually experience the gameplay of old titles they might otherwise only have seen on YouTube or read about on Wikipedia. 
"Obsolescence is such a tragedy in digital media," she says. "Having been in this space now for 20 years, I can look back at all kinds of absolutely landmark, influential works of which there is now no trace."
Crucially, the Syd Bolton collection also includes all the manuals that came with the games, which can be equally as interesting for scholars' research. 
The U of T Mississauga Library has set up a space for anyone who wishes to make an appointment to play a game from the Syd Bolton Collection (photo by Nick Iwanyshyn)
There are also 5,000 video-game magazines, including full runs of famous gaming titles like Nintendo Power and Electronic Gaming Month. This aspect of the collection, Young says, is both rare and critical since it allows academics to see how a game was marketed and discussed. "You can gauge just what was going on in the industry at that point in time," he says. 
U of T research officer Stephanie Fisher wants to use the collection to kickstart the next generation of video game development. She's co-director of Pixelles, a non-profit that supports women in the gaming industry through programs and events such as "game jams" that encourage women to design games. Fisher plans to use the Syd Bolton collection as an artistic resource that inspires creators by letting them experience rare old games first-hand. 
"It's going to really help game developers, particularly indie game developers who do really cool kind of avant-garde stuff," she says. "You think of filmmakers – they go and get the film to learn from it. But it's been so hard to do that with games." 
The U of T Mississauga Library has even set up video monitors in its reading room so that any student, professor, or community member can make an appointment to examine a game and play it. 
Meanwhile, Young and his team are currently hard at work cataloging the enormous collection of games and consoles, and doing light repairs so they're all in working order.
It's a curious form of preservation work. Young, who used to work for U of T's Thomas Fisher Rare Book Library, does a digital-age version of the work done at Fisher on works that are hundreds of years old. For example, he's spent the last few weeks opening Nintendo cartridges and carefully cleaning them so their electrical contacts work perfectly. 
"These things were meant to be used," he says of the games. "They're meant to be played." 
UTC