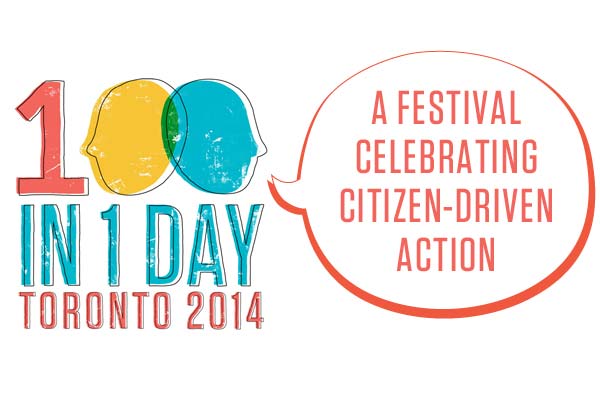 100 in 1 Day at U of T
Super-charge Toronto's spirit with DIY origami frogs, street-dancing, a "Math Street" wonderland and more
Hundreds of citizens working together to transform their city: that's the goal of 100 in 1 Day – a social movement originating in Bogotá, Colombia, and spreading around the world, as cities including Cape Town, Copenhagen and Montreal host a one-day festival of citizen-driven change.
100 in 1 Day comes to Toronto for the first time this year, and the University of Toronto is both a sponsor and a participant. The event takes place June 7, and Torontonians can choose from 148 different activities (or "interventions"), such as a potluck in Wildwood Park, a meditation celebration where participants will "shuffle like wonder-struck zombies" and a Streetcar Back Pack (to encourage people to move to the back of the streetcar "by making it the cool place to be.")
Six of the 148 interventions take place at U of T, five on the St. George campus and one at University of Toronto Scarborough. All interventions are free, and cater to a variety of interests and age groups.
Math in the Street U of T's Math department invites Torontonians to take a walk down Math Street, an alleyway at U of T, just off College and St. George, that they have converted into a wonderland of hands-on, fun math activities and math thoughts for everybody. "Come explore fractals and geometric shapes and look at the math all around you. You don't need a math background to enjoy this transformed walkway, you just need an interest in the world around you," says Pam Brittain, outreach and special projects coordinator for the math department. The intervention takes place from 10 a.m. to 3 p.m. (Read more about this intervention.) 
F.O.L.D. - Fly with Origami, Learn to Dream. F.O.L.D. is a U of T student club devoted to the art of origami. They'll be at the corner of College and St. George from 10 a.m. to 4 p.m. to encourage people to  fold origami frogs and enter them into a frog jumping competition. Club members will also demonstrating the hexaflexagon. (Read more about this intervention.)
Dear Sneaker MoveU and the Faculty of Kinesiology and Physical Education are encouraging Torontonians to donate their gently used running shoes or sneakers and tie them to the fence as a commitment to the entire community being active and healthy. Passers-by will be encouraged to contribute to the installation by filling out a sneaker stencil saying "I sneak it in by: ____________________" or "I move everyday so I can: ___________________." Street-dancing will be showcased on the corner of Devonshire and Bloor to demonstrate one of the many ways donated sneakers can inspire healthy active living. Come (and bring your shoes) from 11 a.m. to 3 p.m. (Read more about this intervention.)
InspirationX - InnovaMasters Initiative. This intervention at the Bahen Centre on St. George Street takes place from 10 a.m. to 12 p.m., and is the creation of U of T student Alice Zhu. The intervention asks participants to answer the question, "Give us an instance where you were innovative," and to participate in brainstorming exercises. Answers will be posted on YouTube and social media and will be shown on a laptop screen. (Read more about this intervention.) 
Chess in the City! An intervention by Mike Ivanov and the Hart House Chess Club, Chess in the City! is designed to promote chess while connecting people who don't often get a chance to know each other in the busy urban life that Toronto brings. The club will set up a giant chess set with life-size pieces and play team chess on it, with people making suggestions for both sides. Regular boards will also be set up, where two strangers can start a game and get to know each other. The intervention takes place at 111 Wellesley Street from 11 a.m. to 5 p.m. (Read more about this intervention.)
University of Toronto Scarborough - Yours To Discover UTSC's intervention is all about discovery, and it takes place from 10 to 2 p.m.:
• Discover Nature (by making and throwing seed balls).  
• Discover Love – through The Love Lettering Project – Write a love letter to a stranger and help transform their relationship to public space and their communities through social engagement.  
• Discover Yourself – The Feel Good Board will post positive things you love about the staff, faculty and students at UTSC. Share a great experience. Praise a person that has supported you. Tell us what you love about being at UTSC. 
• Discover Your Energy – Get active and balance your mind, body and spirit through UTSC's Athletics' Move U campaign. Take part in a day of outdoor activities including yoga, Zumba and picturesque walks throughout our campus trail system (yoga meditation and Zumba will take place from 12 to 2 p.m.).
• Discover Your Story – Join us on a photojournalism journey; after all a picture is worth a thousand words.
• Discover Your Appetite – We will have snacks and drinks available throughout the day.