10 U of T researchers named fellows of the Canadian Academy of Health Sciences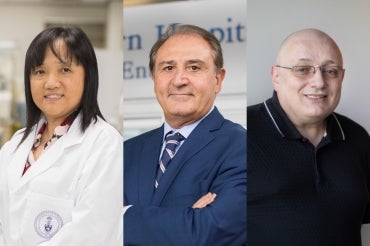 Ten researchers from the University of Toronto have been named fellows of the Canadian Academy of Health Sciences – one of the most esteemed honours for academics in the field.
From breast cancer diagnosis and neuro-imaging of Parkinson's disease to regulation of alternative therapies and understanding the impact of social inequities on health, the new fellows from U of T and its partner hospitals are at the forefront of tackling a diverse array of issues pertinent to health care and the life sciences. (See the full list of U of T researchers below.)
 "The University of Toronto would like to congratulate these 10 faculty members from our health sciences community on this most deserved recognition of their scholarship and research accomplishments," said Vivek Goel, U of T's vice-president, research and innovation, and strategic initiatives.
"Their election to the Canadian Academy of Health Sciences is a testament to U of T's strengths in areas of health sciences that run the gamut from bench to bedside and molecule to population." 
One of three national academies that make up the Council of Canadian Academies, the Canadian Academy of Health Sciences leverages the expertise of Canada's leading health sciences researchers to examine the most pressing and complex health challenges of the day, share assessments and recommend actionable solutions.
Fellows are drawn from an array of disciplines within the health sciences and are elected to the academy in recognition of their research prowess, scientific creativity, leadership and track record of advancing health sciences for the public good.
They are tasked with carrying out independent, evidence-based analysis of health-related topics that affect Canadians.
Fang Liu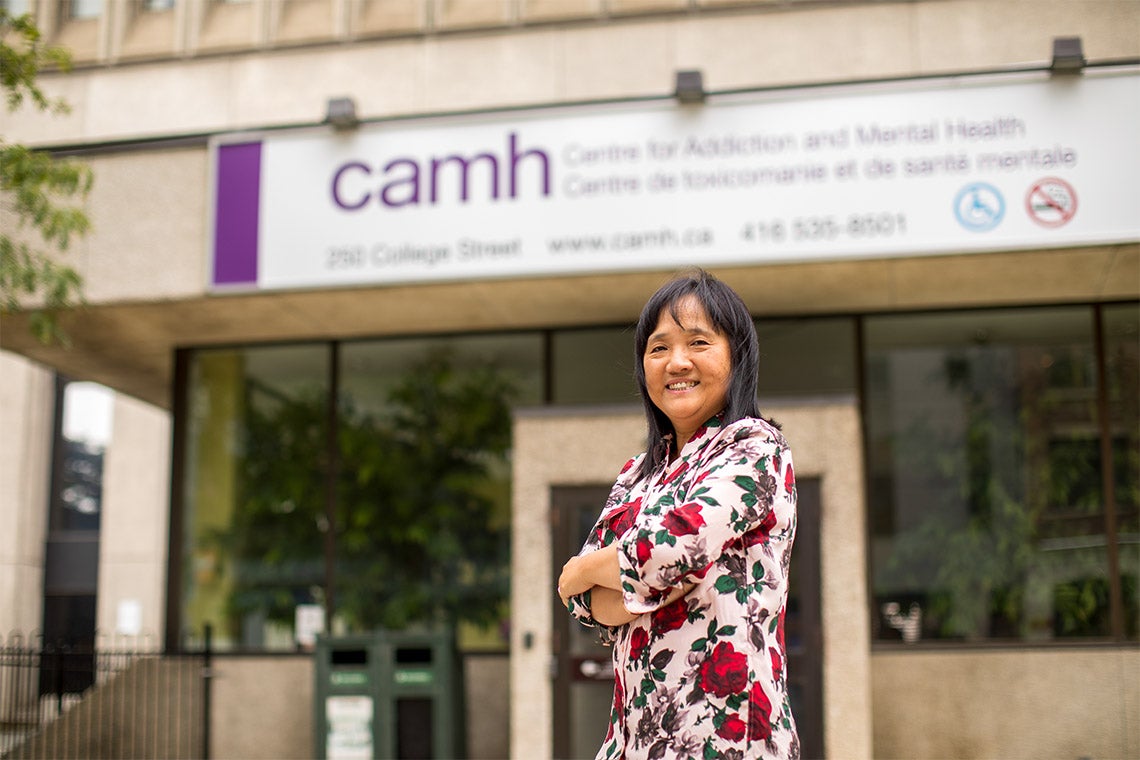 (photo by Johnny Guatto)
For Professor Fang Liu, co-director of the brain and therapeutic division of the Faculty of Medicine's depatment of psychiatry, the election as a fellow marks the latest distinction in a 25-year career at U of T. She started as a master's student in 1994 before going on to complete her PhD and post-doctoral fellowship at U of T and embarking on her professorial career.
"I'm always proud to tell people that I'm a U of T-homemade professor," said Liu, who is cross-appointed to the department of physiology and the Institute of Medical Science. She is also a senior scientist and head of molecular neuroscience at the Campbell Family Mental Health Research Institute at the Centre for Addiction and Mental Health (CAMH).
Liu's research ranges from pharmacological interventions for diseases that currently have no treatments, such as post-traumatic stress disorder, to the development of drugs without side-effects for conditions like schizophrenia.
"We do this by studying the molecular mechanisms of diseases, targeting specific mechanisms and developing drugs for them," she said.
Liu said she was "excited and honoured" to be elected a fellow, describing it as "a dream for scientists in health sciences research." She added that she hopes to use her position as a fellow to promote mental health awareness.
Antonio Strafella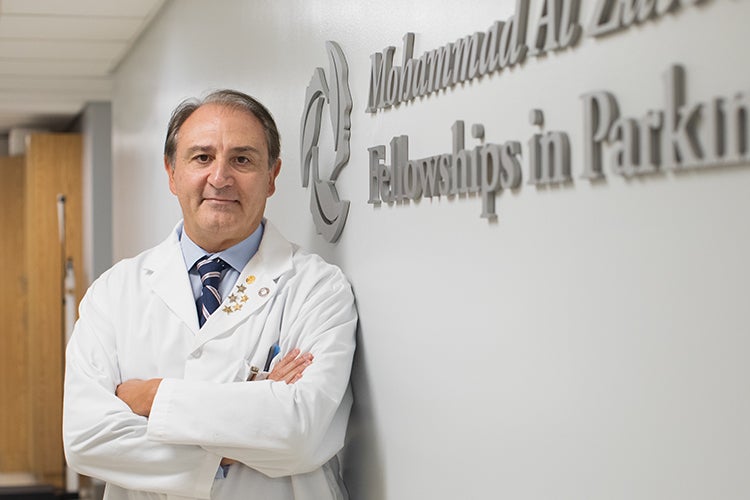 (photo by Johnny Guatto)
Antonio Strafella, a professor in the neurology division of the department of medicine at the Faculty of Medicine, said he was "extremely honoured" at what he called the "amazing surprise" of having been granted the opportunity to serve the Canadian Academy of Health Sciences and Canadian society.
Like Liu, Strafella is a senior scientist at the Campbell Family Mental Health Research Institute at CAMH, albeit in its research imaging centre. 
Much of his work revolves around using neuro-imaging to work towards a cure for Parkinson's disease – "so taking pictures of the brain using very sophisticated biomarkers to image the progression of the disease and the complications associated with it," explained Strafella, who holds a Canada Research Chair in Movement Disorders and Neuroimaging.
Strafella said studies on the brains of Parkinson's patients are commonly conducted post-mortem, and that while there are drugs available to treat the symptoms of Parkinson's, there is no cure for the disease itself.
"Using neuro-imaging, we can conduct these studies in vivo and potentially find changes in biomarkers in the very early stages of the disease," he said.
Carles Muntaner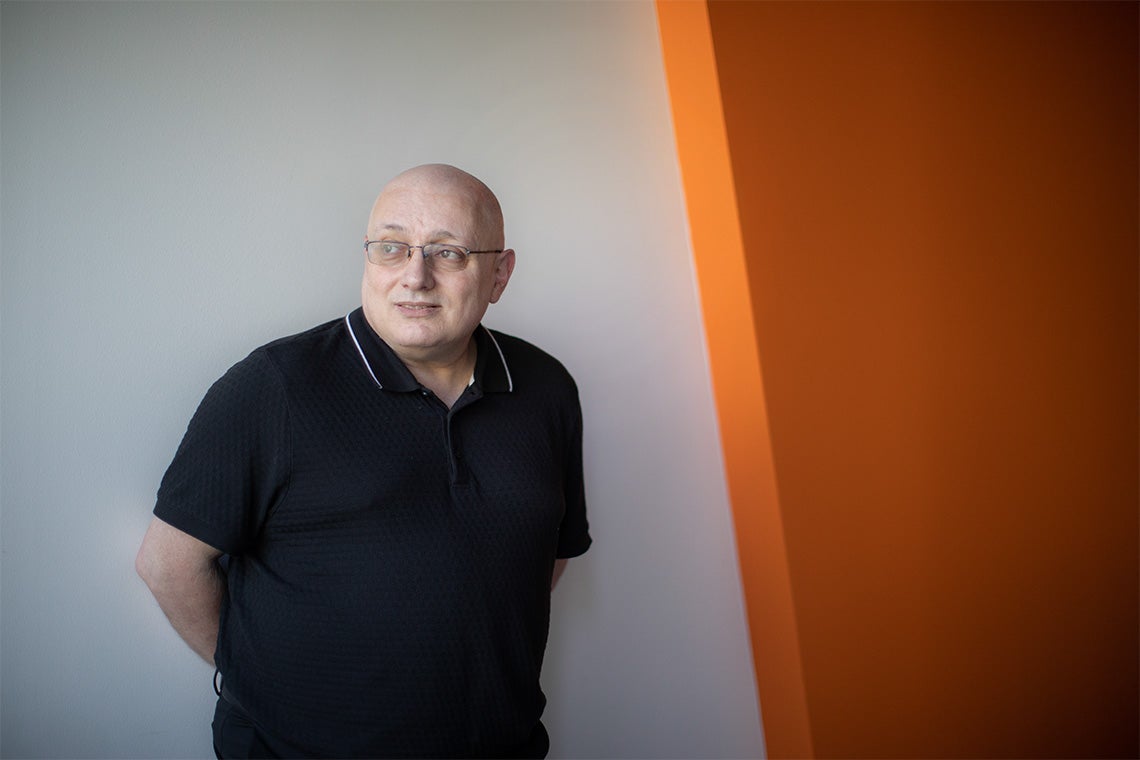 (photo by Nick Iwanyshyn)
Professor Carles Muntaner of the Lawrence S. Bloomberg Faculty of Nursing is looking into how activities outside the health-care sector influence health and disease.
"My area of research includes social determinants of health, health equity and social inequalities," said Muntaner, who holds cross-appointments at the Dalla Lana School of Public Health and the department of psychiatry in the Faculty of Medicine.
Muntaner's research examines how an array of factors – ranging from race, ethnicity and employment conditions to education and disparities in the availability of services – influence the health of individuals and groups.
While his expertise has seen him appointed as the co-chair of the World Health Organization's Employment Conditions Knowledge Network, Muntaner said his election as a Canadian Academy of Health Sciences fellow is among his most valued accomplishments.
"It's a great honour. I'm an immigrant to Canada, so to be acknowledged like this in my country – I'm not only honoured, but it's a great endorsement for me to continue in this area of research on health equity and social inequalities in health," he said.
---
Here's the full list of the 10 U of T researchers named fellows of the Canadian Academy of Health Sciences:
Christine Allen, Leslie Dan Faculty of Pharmacy
Heather Boon, Leslie Dan Faculty of Pharmacy
Jocalyn Clark, department of medicine, Faculty of Medicine and The Lancet
Ronald Cohn, department of paediatrics, Faculty of Medicine and The Hospital for Sick Children
Linda Johnston, Lawrence S. Bloomberg Faculty of Nursing
Lawrence Leiter, department of medicine, Faculty of Medicine and St. Michael's Hospital
Fang Liu, department of psychiatry, Faculty of Medicine and the Centre for Addiction and Mental Health
Stephen Matthews, department of physiology, Faculty of Medicine
Carles Muntaner, Lawrence S. Bloomberg Faculty of Nursing
Antonio Strafella, department of medicine, Faculty of Medicine, University Health Network, the Centre for Addiction and Mental Health
UTC