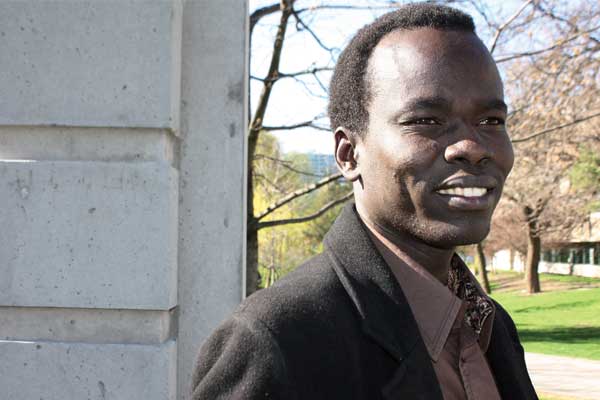 'Lost Boy' maintained passion for homeland
For Simon Kuany, a graduand of the Lassonde Mineral Engineering Program, life's challenges are all a matter of perspective.
Kuany was part of the exodus from South Sudan in the 1980s, one of approximately 20,000 boys ranging in age from five to 13 who were forced to flee their villages to escape Sudan's civil war. Collectively, they are known as Sudan's Lost Boys.
He said he understands why someone from the west would think the boys were lost, but for Kuany it was simply part of growing up in a war zone. "Everything was dangerous. It was a way life," he said.
"From our perspective we weren't lost, we were part of a struggle," Kuany added. "We were thinking of the next 10, 20 years and what will happen after this."
Kuany said he thinks he was around five or six years old when he left his village, Panyagoor in South Sudan, in search of safety. He's also unsure of how long the journey took.
"I didn't have an idea of time, I didn't know how long a week or a month was," he said.
Eventually, Kuany and the other boys arrived at a refugee camp operated by the United Nations High Commissioner for Refugees in Kakuma, Kenya, in 1992. Here he received a primary school education and was able to attend a Kenyan secondary school thanks to sponsorship provided by a group of Jesuits.
In 2005, with the help of the World University Services of Canada (WUSC), he came to Toronto to attend university.
"Getting a degree is something I had been looking forward to for a long time," he said. "Everyone in South Sudan is hungry for learning and I was no exception."
Talking with Kuany, it becomes apparent how much he belies the nickname "Lost Boys." Kuany is motivated, clear about his own purpose and focused on the future of South Sudan.
In January, South Sudan voted to secede from the north and form its own country. On July 9 the Republic of South Sudan will become the world's newest internationally recognized country and Kuany wants to play a significant role in its development.
"Our leader, [the late John Garang, leader of Sudan People's Liberation Army] called us the 'seeds for the country,'" he said. "No matter how many problems we had, he knew one day we would be very helpful, and today, many are starting to return."
Kuany plans to stay in Canada for a few more years to gain adequate experience before returning home. He wants to put his skills to work and be able to share what he
has learned and tutor others.
"It's very important to get the engineering degree [at U of T]. It's for my country, not only for me," said Kuany. "I will make sure I make use of it and help my people back home."
Kuany believes South Sudan can learn a lot from Canada's successes.
"South Sudan is starting from scratch, there is no infrastructure, no roads, no government institutions, no schools," he said. "It's not nation rebuilding, it's nation creation.
"Everything I do there will be from what I learned here," said Kuany. "Canada is going to be a big part of whatever success we have."