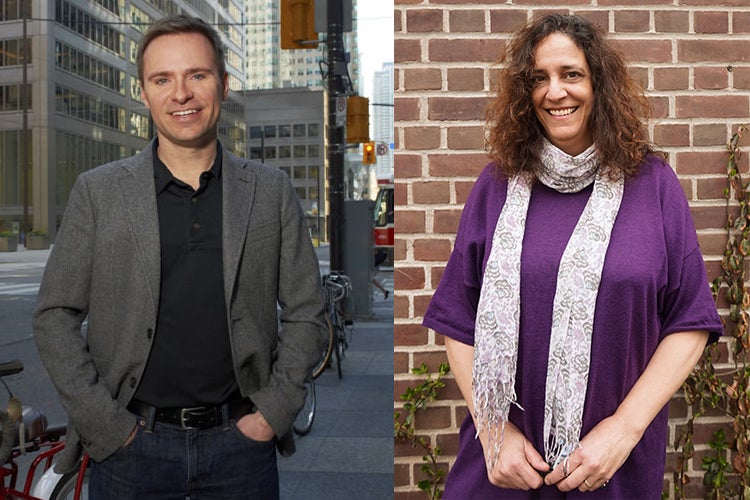 What's work got to do with it? U of T sociologists on finding meaning and well-being at work
We spend most of our time at work. Let that sobering thought sink in. So how do we make that time more meaningful and improve our well-being while at the office? Can work even become a buffer against life stressors?
Scott Schieman, chair of the department of sociology at the downtown Toronto campus, and Melissa Milkie, chair of the tri-campus graduate department of sociology, research work, stress and health in Canada. Their work explores the challenges people experience in balancing work with their roles in their families and communities – and the effects of those demands on health. 
They spoke on that theme in a presentation to U of T staff at a recent ODLC Academy of Well-being.  
While there isn't one solution to finding happiness at work, there are a few key factors that impact daily fulfilment and an overall sense of satisfaction.
"What really stood out in my research is the importance of having agency and autonomy and feeling in control to achieve well-being in the workplace," says Schieman. But having worthwhile challenges that allow workers to develop their skills are as important to well-being as having agency, he says.
It helps to have a clear sense of expectations about your work, he says, and to be able to communicate specific needs with a supportive supervisor or manager.
He says those interested in increasing well-being in their jobs should look to develop skills, even if advancement isn't possible in their current role.
"Talk to supervisors or managers who can help you take advantage of opportunities, or pursue available professional development initiatives," he says.
 "Regardless of industry, people see their jobs as meaningful and fulfilling when they get to develop their skill sets, be creative and collaborative," Milkie adds. "Satisfaction at work often means connecting with other people, making a difference in the work that you're doing, and seeing how that work fits within the larger picture."
She shares a recent example in her own career. "I just finished teaching the graduate sociology practicum course, which was fantastic: We saw second-year PhD students develop their own projects and the work was really meaningful.
"My colleagues and I were so grateful to be part of their work and learn how the course made a difference for the students. If you love certain aspects of your work, you're not counting hours."
Below, Milkie (far left) with course co-leader Shyon Baumann (next to her, lower row on the left) and second-year PhD students in the sociology practicum course.
Schieman points out that other benefits of collaborating and working with new people include breaking out of a routine and invigorating your own skills. "We learn so much more in collaborative efforts," he says. "You're confronted with different ways of thinking and solving problems.
"People are looking for challenges, growth and development in the workplace. One of the most powerful predictors of well-being in the workplace is to be able to learn skills and use them in new ways," he says. "That's the biggest source of satisfaction. It's actually really stressful to be in a dull routine kind of job."
Another way to achieve well-being at work? Pay attention to organizational culture.
"One of the key takeaways was paying attention to organizational culture and being mindful of the kinds of unspoken norms and expectations," says Schieman. Organizations with a culture of higher levels of competition, he says, can present complications to achieving a sustained sense of well-being.
Spending enough time with loved ones is another key concern for Canadian workers: Almost half surveyed in the study by Schieman and Milkie felt they spend too little time with their children.
"That's a problem for Canadian employees. Most people need to find a balance outside of work life, whether that's through community work, friendships, hobbies or their families," says Milkie. "Finding meaning outside of work is so important".
Work can be a source of stress, but it can also be a buffer from stress. A healthy workplace can protect our mental health from external assaults, says Milkie, whether stress originates from parenting, relationships or elsewhere.
"Some workplace characteristics are important buffers – like having more flexibility or control of one's schedule.  Also the reduced worktime or greater number of vacation days more common in European cultures are important for parents," Milkie says. "Those policies matter."
Interested in attending future discussions on work life? Learn about upcoming dates of ODLC sessions, including the Academy of Well-being. 
Learn about all the resources, services and sessions on balancing family and careers available to staff and faculty at the Family Care Centre. 
Search The Bulletin Brief