Safety first: Relaunched U of T safety abroad website to streamline travel abroad process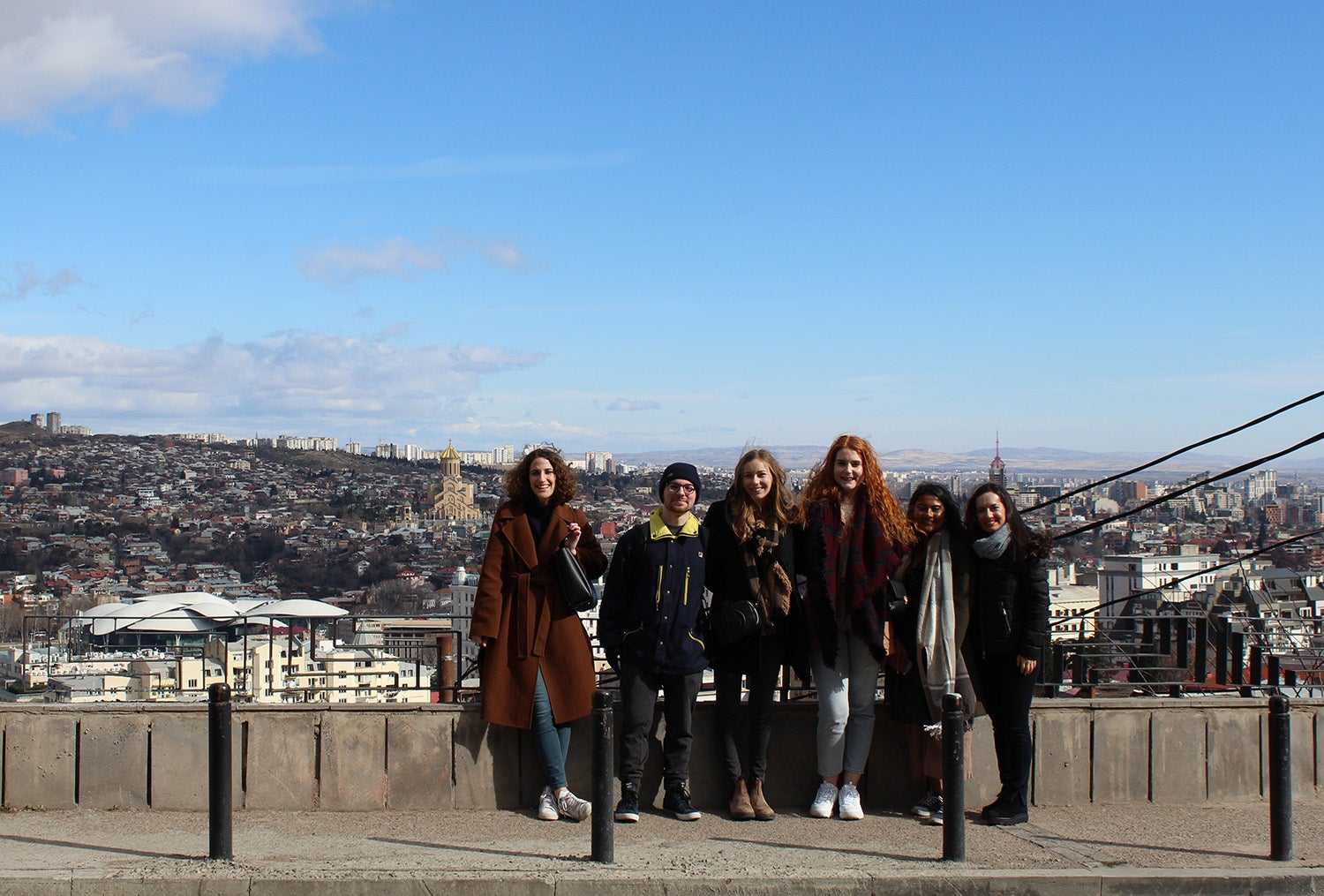 Safety first: Relaunched U of T safety abroad website to streamline travel abroad process
U of T students participating in the International/Indigenous Course Modules (ICM) program pose in Tbilisi, Georgia. Photo by Tami Piovesan
Robust international collaboration is one reason why many students and researchers choose the University of Toronto. For students, studying abroad can open their minds. For researchers, global engagement can expand the scope and impact of their work.
To support international travel and ensure their safety, the university has redesigned a more streamlined online registry for traveling students and relaunched its safety abroad website which will be a one-stop-shop for faculty, staff and students seeking information about U of T's safety abroad policies.
The self-serve registration is a requirement for those traveling abroad for university-related work, according to U of T policy. Students must register online and fill out the form while faculty members who are sponsoring the trip must also do their part by becoming familiar with their responsibilities as a trip sponsor and contacting the Centre for International Experience (CIE) for specifics on a student's trip.
If a country's risk level increases according to Global Affairs Canada (GAC), the online registry will help staff quickly identify where students are located in a country, state or municipality. Details such as emergency contact information and passport information is now mandatory when students register on the database, so that administrators can easily intervene in the event of an emergency.
"It's important to have nuanced data so that we can make quick and accurate decisions," says Jocelyn Ma, safety abroad adviser with the Centre for International Experience. "This revamped registry eliminates a lot of manual work, so if there's an emergency we can quickly contact students and offer 24-hour support."
The registry follows a self-serve model, allowing students to register for travel in lower risk countries and regions. If they are travelling to higher risk areas, they are prompted in the system to work with the CIE's safety abroad staff for specific preparation.
"Throughout the process we've removed a lot of paperwork – students can submit their trip details, complete waivers and confirm training," said Evan Moir, a user experience designer with U of T's enterprise applications and solutions integration department.
In addition to the updated registry, the relaunched safety abroad website will offer information about International SOS, a resource that U of T recently signed on with. The service lets travellers type in questions such as "Can I drink tap water in this city?" and offer 24-7 telephone access to a nurse.
More than 4,000 students travel abroad each year for university activity. The revamped website will serve them and the more than 165 different programs and institutes on U of T's three campuses.
In the past, CIE has contacted students about political unrest in Kenya, water scarcity in South Africa and emergency drills in South Korea and Japan.
"While South Korea and Japan remained as low risk, according to GAC, it was foreseeable that students may feel unsafe," says Ma. "We sent messages to let them know we were monitoring the situation and we provided advice on how to proceed."
Trip sponsors, including professors, are notified about students' request to travel and can contact CIE for further information.
A previous travel sponsor, David Montemurro, an associate professor, teaching stream, with the Ontario Institute for Studies in Education, runs a regular study abroad program for his students. His students have completed internships in Colombia, Costa Rica, Hong Kong and China.
"International education helps our students connect education policy with teaching practice, while also developing global citizenship – it really opens doors on both sides," says Montemurro. "Safety is a key priority, along with academic, legal and health considerations, and the safety abroad office is an integral resource for us."
Woodsworth College also offers an undergraduate Summer Abroad program, and CIE helps graduate students travel to more than 140 partner institutions in more than 40 countries. In addition, U of T Mississauga and U of T Scarborough run similar programs.
"As the first point of contact for travel abroad, we want to be responsive in making sure we're helping students, and this registry helps us accomplish this goal," says Ma. "One of U of T's missions is to help our students study abroad and become global scholars – and helping students do this safely is our top priority."
Subscribe to the Bulletin Brief