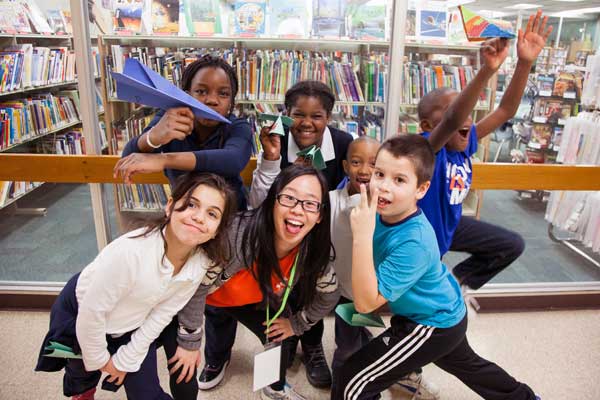 Year in review: U of T's community impact in 2014
While the University of Toronto continues to make its mark around the world, our students, staff, faculty and alumni also make an important impact right here, in the communities around them.  
They have participated in – and sometimes spearheaded – countless initiatives that make the GTA a better place to live, from offering essential health and financial services to cleaning up the environment to inviting the community into the university. 
Writer Jelena Damjanovic reports on stories about U of T in the community for U of T News. Below, Jelena shares some of her favourite stories from 2014.
Helping kids in Toronto's priority neighbourhoods
Akanksha Ganguly, a first-year master's student in U of T's Dalla Lana School of Public Health, is co-founder and CEO of S.E.E.D.S. (Supporting Education, Empowerment and Development through Science), a non-profit that provides supplemental life science and healthy living education to youth living in priority neighbourhoods of Toronto. So far, after-school, summer and March break workshops have reached more than 150 youth across Toronto.
Student athletes clean up the Don Valley trails
The next time you walk, bike or run along the Don Valley forest trails, you might want to thank a student athlete from the U of T mountain bike team. Over the past 12 years, they've organized an annual Don Valley forest trail clean-up day which, so far, has succeeded in removing 24,000 pounds of litter from the forest floor. On May 24th, they rolled up their sleeves again and invited Torontonians to join forces with them. 
Helping others face their worst fears: filing taxes
Many people hate filing taxes so much they put it off to the last moment – or hire someone else to handle much of the work. But during this tax season, 28 Rotman Commerce students went out of their way to help file the taxes of total strangers. For free.
Unlocking the mysteries of Toronto: Doors Open at U of T
The U of T participated in Doors Open Toronto, a city-wide weekend festival, offering free access to more than 155 architecturally, historically, culturally and socially significant buildings across Toronto. In addition to opening up six of its buildings to the public, U of T sponsored a range of free walking tours aligned with this year's theme: "Secrets and spirits…exploring the mysteries behind the door".
100 in 1 Day at U of T
100 in 1 Day, a social movement originating in Bogotá, Colombia, spread all the way to Toronto this year, with U of T joining the one-day festival of citizen-driven change, as both sponsor and participant. Six of the 148 interventions took place at U of T, five on the St. George campus and one at U of T Scarborough.
Convocation 2014: future physician plans to give back to community 
Tyler Tabobondung, a member of the Wasauksing First Nation raised in Toronto, graduated with an honours bachelor of science degree in neuroscience and mental health before starting medical school at McMaster University.
As a medical student, Tabobondung (pictured at right) hopes to combine his passion for science and his love for his people by becoming a physician who can use his skills to improve First Nations health and well-being.
U of T student spearheads Ally Blood Donor clinics 
When U of T PhD student Stephen McCarthy learned that Canadian Blood Services (CBS) currently has a five-year deferral period for sexually-active gay and bisexual men he was disappointed, but not for long.  McCarthy's father, Jim, offered to donate on his behalf. Inspired by that act of love and support, McCarthy worked with CBS and the lesbian, gay, bisexual, transgender, two-spirit and queer (LBGTTQ) community to create Ally Blood Donor clinics to encourage individuals to donate in place of those who are ineligible.
Four to watch: Convocation 2014's community-builders
U of T alumni studied hard to complete their degrees, but they also found time to mentor youth and volunteer at home and abroad…
Convocation 2014 grads to watch: city builders
…and when they graduated, they were already hard at work creating better buildings, safer streets and healthier communities.
IMAGINE health clinic: U of T students serve city's most marginalized citizens
Imagine a clinic providing free health care to Toronto's most vulnerable residents: people with no fixed address, health insurance or ID.
With support from faculty and community partners, U of T students from a variety of health profession programs made it happen. Welcome to the Interprofessional Medical and Allied Groups for Improving Neighbourhood Environment (IMAGINE). 
Building a better Toronto: Alternative Reading Week
While some university students spent Reading Week hitting the books or the sack, hundreds of U of T students were busy hitting nails on the head – or painting murals and running science workshops for elementary school kids, as part of the Alternative Reading Week Days of Service program (ARW) organized annually by U of T's Centre for Community Partnerships. 
Aboard the HMS Terror at the University of Toronto 
When the wrecked ship discovered in the cold waters off Nunavut this fall turned out to be Erebus, one of the two vessels commandeered by Sir John Franklin on his doomed expedition in 1845 to find the Northwest Passage from the Atlantic Ocean to Asia, few would imagine a connection to U of T. And yet, U of T's Thomas Fisher Rare Book Library has the only copy of the diary and drawings of Captain Owen Stanley, who was on an Arctic expedition on the same ship. It's just one of many treasures kept in the Fisher Library.
In Memoriam: remembering the First World War at U of T
Earlier this year, when the world was remembering the First World War, the U of T archives offered a fascinating glimpse into the war, the University's role and the rich trove of material found in such places at the records of then-president Robert Falconer, who was knighted for his war effort.