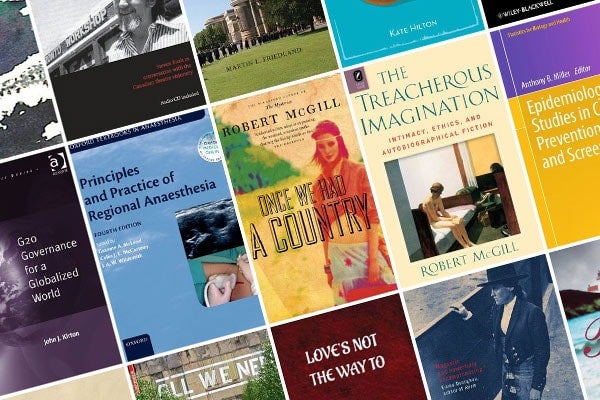 With a library system that ranks third in North America, the University of Toronto is home to millions of works.
And, throughout its history, U of T has also been home to hundreds of distinguished authors and editors.
The award-winning poets, playwrights, screenwriters, novelists, essayists and journalists who number among the alumni and faculty of U of T are too many to list. Sheila Heti, Lee Maracle, Margaret Atwood, Anne Carson, Graham Yost, Guy Gavriel Kay, Atom Egoyan, Rohinton Mistry, Heather Mallick, Michael Cobb and Michael Ondaatje are just a few of today's writers, following in the literary footsteps of the late U of T authors Stephen Leacock, Robertson Davies, Morley Callaghan and Jay Macpherson.
And what of this year's releases?  
At the top of anyone's must-have list for the personal library is The University of Toronto, A History (second edition) by Martin L. Friedland, University Professor and professor emeritus of Law at U of T, which traces the history of the University from its origins as Kings College in 1827 to the millennium.
But this year's books include everything from fiction to non-fiction and texts that represent years of path-breaking academic research.
Robert McGill reimagines the impact of the Vietnam War in his novel Once We Had a Country, Hillary Scharper's Perdita tells a gothic tale of love and loss, while Ron Deibert's latest book Black Code explores the dangers of the cyberspace on which our society greatly depends.
Check out Operative Landscapes by Alissa North to learn how landscape can shape a community, explore Colin McCartney's contributions to Principles and Practice of Regional Anaesthesia and meet The American Pragmatists by Cheryl Misak.
You'll find more reading possibilities in the photo gallery below. Whatever your interests, there is sure to be a U of T author with a book for you.
Happy reading!
Did we miss you? If you have published or will publish a book in 2013, or you know a U of T alumnus, researcher or student with a new book, please let us know. Send an email to uoftnews@utoronto.ca.