Using AI to optimize social services: U of T researchers team up with industry and government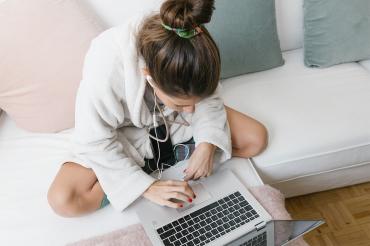 A married mother of two who lives in Winnipeg, "Shawna" struggles to afford rent, groceries and needs dental care – but she doesn't have coverage through her part-time office assistant job and she isn't sure if she is eligible for help.
At the moment, the next step for "Shawna," a fictitious persona created by researchers, would involve contacting a social service and being assigned a case manager, or calling a helpline.   
But that could soon be about to change.
In a project led by HelpSeeker Technologies in collaboration with Corsac Technologies and Microsoft, researchers from the University of Toronto's Centre for Social Services Engineering (CSSE) are developing a platform that harnesses artificial intelligence to improve wayfinding for Canadians seeking social services. The platform also aims to optimize service delivery, improve decision making across the system and provide data that will help policy-makers fine-tune social programs.
The project – called Compass – is supported by Canada's Digital Supercluster, a federal program to develop and accelerate digital technologies.
Mark Fox, founding director of the centre and a professor in the department of mechanical and industrial engineering in the Faculty of Applied Science & Engineering and the department of computer science in the Faculty of Arts & Science, said U of T researchers Bart Gajderowicz. Daniela Rosu and Lester Lyu are creating an "ontology" of client needs and social services, a machine learning algorithm to populate a database of available social services and their eligibility requirements, as well as an intelligent system for matching client needs to social service outcomes.
"In order to do Compass successfully, we need to have a very rich representation of clients and of the service providers, and how the two interact with each other," Fox said.
"That's what we are providing. We're providing an ontology – a standard – for representing client and social service information."
The ontology is based on the "common impact data standard," a system for organizing impact data developed by the centre and researchers at Carleton University, social investment measurement firm Sametrica and the Centre for Social Innovation.
Compass will consist of three hubs: one that matches clients with services, another for case managers and a third for policy-makers who seek to improve the system. "We started last year. The first deliverables are going to be [due] by the end of this year," Fox said.
Compass has received $4.9 million in total funding, $3.4 million from industry and the rest from Canada's Digital Supercluster, a federal program announced in 2018 to develop and accelerate digital technologies.
Cheryl Regehr, U of T's vice-president and provost and a professor in the Factor-Inwentash Faculty of Social Work, said the Compass project is an excellent example of how university researchers can collaborate with the social service sector, industry and government partners to find solutions to complicated issues.
"My own area of research is social work," said Regehr. "As a result, I am all too aware of how the challenges of social services delivery can have deleterious effects on our communities."
Regehr added that the project will play a key role in improving Canada's social safety net at a time when many people are counting on it to deliver.
"At a time when the pandemic has highlighted more than ever the cracks in our health and social services systems – and the people that fall into them – this project is critical and has the potential to improve and save lives," Regehr said.
"Moreover, this real-world application of Dr. Fox's research will make important contributions to understandings of complex systems-change across the social and natural sciences – contributions that will lead to better societal outcomes."
François-Philippe Champagne, minister of innovation, science and industry, said in a statement that the project exemplifies Canada's commitment to advancing social innovation through transformational digital technologies.
"Supporting the needs of our most vulnerable populations is critical to improving the health, wellbeing and safety of all Canadians," he said.
The project is being developed and validated through partnerships with the City of Lethbridge, Medicine Hat Community Housing Society and Homeward Trust in Edmonton, as well as the Canada Mortgage and Housing Corporation.
Sue Paish, CEO of the Digital Technology Supercluster, said in a statement that the Compass project shows how digital innovation technology can be used to serve the greater social good while transforming any sector in Canada.
"Canadian-made technologies like this show the world that Canada is poised to own the podium in digital innovation," she said.
UTC