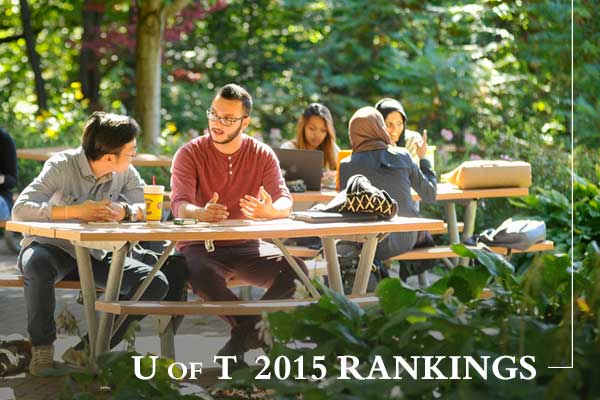 University of Toronto one of top 25 universities in the world – again
Research and teaching strength leads to strong showing
The University of Toronto has once again been rated one of the top 25 universities in the world and first in Canada in the distinguished Academic Ranking of World Universities (ARWU), produced annually by Shanghai Jiao Tong University.
U of T placed 25 overall and also placed highly in individual subject areas, including an 11th place ranking in computer science and 23rd in chemistry.
"Overall, the Shanghai Jiao Tong results reflect U of T's position as a world leader in research and teaching," said Cheryl Regehr, vice-president and provost. "The fact that we consistently place among the top universities in the world shows the quality of our faculty, students and facilities."
Released on August 15, the Shanghai Jiao Tong university ranking marks the beginning of what could almost be described as rankings season for the world's leading universities. Over the next few months, four other major international university rankings will be released: the QS Quacquarelli Symonds (QS) World University Rankings in early September; Times Higher Education (THE) rankings at the end of September; National Taiwan University (NTU) in early October and U.S. News and World Report Global University Rankings at the end of October. 
ARWU emphasizes research output, impact and quality of faculty, and uses six objective indicators to rank more than 1,200 universities around the world. Factors that are measured include the number of alumni and staff winning Nobel Prizes and Fields Medals, number of highly cited researchers selected by Thomson Reuters, articles published in Nature and Science journals, articles indexed in Science Citation Index - Expanded and Social Sciences Citation Index, and per capita performance.
Three other Canadian universities placed in the top 100: the University of British Columbia (40), McGill University (64) and McMaster University (96). Harvard topped the rankings, followed by Stanford and MIT.
U of T was the top Canadian university in four out of five broad categories: Clinical Medicine & Pharmacy, Engineering/Technology & Computer Science, Natural Sciences & Math, and Social Sciences, and was second to McGill University in Agriculture & Life Sciences.
U of T was also the top school in Canada in all five specific subject areas: chemistry, computer science, economics/business, mathematics and physics.
U of T traditionally does well in all five of the major rankings, said Marny Scully, U of T's assistant vice-president of government, institutional and community relations. Last year, U of T placed fourth in the world in the NTU rankings, 14th in U.S. News and World Report's ranking, and 20th in both the THE and QS rankings.
In all five rankings U of T placed first among Canadian universities.
Each of the five rankings uses a different compilation of metrics, Scully said. For example, while all of the five major international rankings include citation and impact measures, Shanghai Jiao Tong is the only ranking that includes a prestigious faculty awards metric. Further complicating things for anyone trying to keep track: QS issues a breakdown of its September rankings by subject matter the following winter – and THE issues another ranking, known as a reputational ranking, also in winter.
Scully said U of T tends to move up and down slightly in the rankings from year to year, but the university is consistently among the top universities in the world and first in the country.
Rankings matter, she said, because they do provide an indication of the quality of U of T's research and education, and because people pay attention to them.
"We know that international students in particular look at these international rankings. They're an important factor in our reputation, which also attracts faculty and industries to partner with us. It helps us to attract talent – both faculty and students."