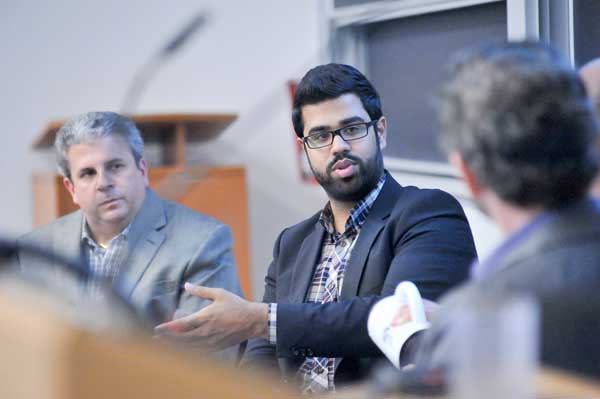 U of T Scarborough grad on Forbes 30 under 30 list
Satish Kanwar says his time at U of T was fundamental to his career
He worked with Microsoft Canada as marketing associate. He worked with Hewlett-Packard as an associate program manager. He co-founded Jet Cooper, a company acquired by Shopify. And now he works as the director of product at Shopify.
U of T Scarborough alum Satish Kanwar did all this before turning 30.
These achievements are no small feat, and Forbes took notice. Kanwar, 29, is part of Forbes fifth annual 30 under 30 list, in ecommerce and retail. 
"It was an unexpected and a pleasant surprise and a fun way to start 2016. I feel honoured and very fortunate to receive such an honor on behalf of the whole team at Shopify," says Kanwar.
He is one of two U of T grads on the list. U of T Mississauga alumnus Mohammed Ashour earned an Honours Bachelor of Science in life sciences from UTM in 2009, and was cited as one to watch in the Social Entrepreneurs category. Read more about Ashour here. 
The Forbes list assesses 15,000 applications in 20 different sectors, narrowing it down to the top 600. The judges for the ecommerce and retail sector this year included Jessica Alba, co-founder of the Honest Company, and CEO of her name sake Tory Burch.
Jet Cooper, a design agency, was in the beginning stages of inception while Kanwar was doing his undergraduate in business administration at UTSC.  "My time at the University of Toronto was fundamental to creating my career. I met my co-founder for my first business while in my undergrad," says Kanwar, "I am grateful for the caliber of people that the university was able to attract and for the opportunity to work with those people through my degree outside of my degree on campus and thereafter." 
Kanwar knows that an entrepreneur isn't created overnight. "My suggestion to any entrepreneur would be to have persistence, what we commonly refer to as hustle, which is the unwavering commitment to certain vision or goal," says Kanwar. 
As for what's in store for the future, we will just have to wait and see.  "I am certainly really enjoying my time at Shopify, and we have a very entrepreneurial culture internally here, it's been an amazing ride," says Kanwar.
Sayada Nabi is  a writer with UTSC.