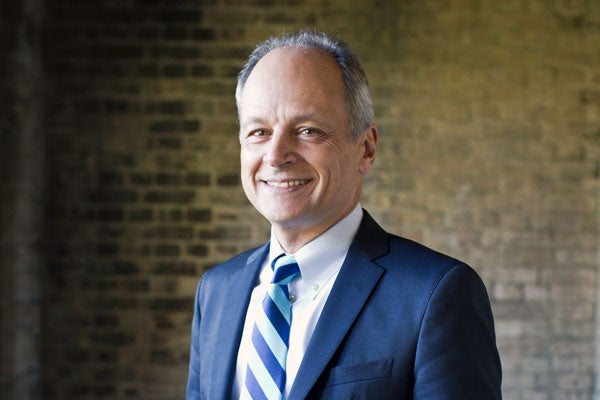 U of T president elected to British Academy
It is an exclusive group that includes well-known names such as economist John Maynard Keynes, sculptor Henry Moore and author C.S. Lewis.  Now U of T President Meric Gertler's name has been added to the Fellowship of the British Academy.  
Since 1902, when it received its Royal Charter from King Edward VII, many of the most distinguished scholars in the humanities and social sciences from the United Kingdom and around the world have been involved in the life of the Academy. This year, as part of its annual election process, the Academy elected 42 UK academics from 18 universities as Fellows. In addition, 20 new Corresponding Fellows, including Gertler, were elected to the Academy from universities outside the UK. The U of T President was the only new Corresponding Fellow from a Canadian university this year.
Election as a Corresponding Fellow is the highest honour conferred by the Academy on non-UK residents.
"I am delighted to be elected as a Corresponding Fellow of the British Academy, and I am most grateful to the Academy for this great honour" said Gertler. "I look forward to contributing to its work in the advancement of the humanities and social sciences."
Fellowship in the British Academy is restricted to a small number of scholars and researchers – just over "1,000 of the world's most eminent scholars in the humanities and social sciences, elected for their outstanding research," according to the Academy's website. The Academy promotes the work of its disciplines, and facilitates the exchange of knowledge and ideas through policy reports, forums, lectures, conferences, publications and public events.
This year's roster of new Fellows also includes Professor Andy Orchard, who currently holds the Rawlinson and Bosworth Professorship at Oxford University in England, a post once held by J.R.R. Tolkien. Before heading to Oxford, Orchard spent 13 years at the University of Toronto, which included his service as Provost of Trinity College.  
Through the years, a number of U of T scholars and researchers have been elected to the Fellowship. Renowned philosopher and Professor Emeritus Ian Hacking, who received the prestigious Balzan Prize last year, was elected a Corresponding Fellow in 1995. Professor Northrop Frye, one of the most influential literary critics and theorists of the 20th century, was elected in 1975.