U of T computer scientist named NSERC/Autodesk Industrial Research Chair in Human-Computer Interaction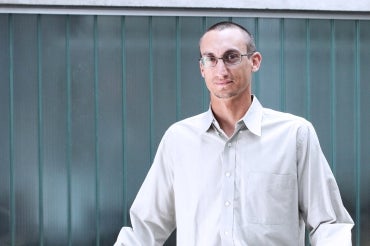 The manufacturing industry is changing. Jobs that once relied on individuals to carry out manual labour are increasingly turning to automation because of the growing power of machines and computing systems."
But humans still need to know how to work with the technology – and where they fit in.
"These rapidly evolving technologies are forcing individuals in impacted industries to work in new and unfamiliar ways, creating new human-computer interaction challenges," said Tovi Grossman, an assistant professor in the University of Toronto's department of computer science, in the Faculty of Arts & Science.
"It's critical to our future that new interactive systems are developed to allow users to work efficiently with these automated design and fabrication systems and to support their learning, training and retraining, to keep pace with the rapidly changing needs of their skill base."
It's a challenge Grossman is dedicated to helping find a solution for as the new NSERC/Autodesk Industrial Research Chair in Human Computer-Interaction.
The five-year appointment – for early-stage researchers demonstrating exceptional promise – will allow Grossman to focus on developing human-computer interaction approaches to support hybrid interactive systems in the design and fabrication sectors. These systems help workers create efficient work patterns and maintain their agency while they perform tasks alongside automated technologies.
"Specifically, we'll be looking at how modern interactive technologies, such as wearable devices, augmented reality, collaborative robots and mixed-initiative systems, will allow people to work and learn in ways that were never before possible," said Grossman. 
An expert in human-computer interaction with a focus on understanding and improving human learning in complex scenarios, Grossman joined U of T in 2018 after working as a distinguished research scientist in Autodesk Research's User Interface Research group. 
"I'm very excited to have been named the NSERC/Autodesk Industrial Research Chair in Human-Computer Interaction," said Grossman. "As someone who recently transitioned from working in industry to working in academia, this position will give me the best of both worlds."
The position builds upon U of T's longstanding relationship with Autodesk, a leader in 3D design, engineering and entertainment software. NSERC acknowledged the partnership with a Synergy Award for Innovation in 2011, recognizing the collaboration as a model of an effective partnership between industry and higher education.
The partnership has led to a number of research publications, numerous highly skilled computer scientists and many patents and awards. Several employees of Autodesk have joined U of T as graduate students and faculty members, including Grossman himself.
"The partnership with Autodesk will provide me and my students the unique opportunity to transfer research solutions into real-world products that reach millions of users," said Grossman.
Computer science's Interim Chair Marsha Chechik is proud to recognize Grossman's success.
"His research often reaches beyond the boundaries of computer science, with collaborations from engineering, architecture and even anatomy," said Chechik. "His current collaboration with Autodesk is a primary example of a partnership between academia and industry for creating solutions to real-world problems."
The appointment will also allow Grossman to mentor the next generation of computer scientists, while working on challenging and innovative academic research problems with far-reaching implications in diverse areas, like the education, manufacturing and construction industries.
"Funds for this program will train and prepare a new cohort of computer scientists and give our graduate students in computer science the opportunity to apply their research to real-world problems – putting new technologies into the hands of real people." 
Arts & Science