Toronto's New Urbanism Film Festival brings fresh perspective on cities to U of T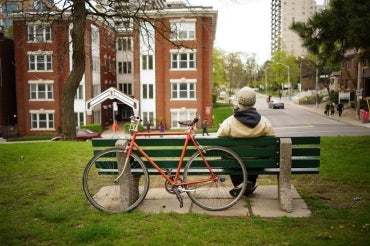 Explore Toronto's ravines, take a bike trip through Arlington, Va., or check out an up-and-coming neighbourhood in San Diego – all without leaving University of Toronto's downtown Toronto campus.
All of these locations are featured in documentaries at the 2017 Toronto New Urbanism Film Festival, taking place at U of T's Innis Town Hall on June 1 and 7.
"We want to promote having important discussions about how we build our city," says U of T alumna Helen Huang, chair of Congress for the New Urbanism Ontario and a planner and urban designer at MHBC Planning.
Congress for the New Urbanism Ontario, which organized the festival, is an urban design advocate group "promoting sustainable development, smart growth and more contemporary urban design," says Huang.
Films include documentaries Accidental Parkland, which looks at Toronto's waterways, hosted by U of T lecturer Shawn Micallef, and Velo Visionaries – a look at a library on wheels in San Francisco.
"Film in many respects can serve as an opportunity to see a place through someone else's eyes without actually physically being there. It opens up and provides access to people, spaces and ideas," says Shauna Brail, U of T's presidential adviser on urban engagement and director of the urban studies program.
Brail will be participating in a panel discussion taking place after the screenings on June 1.
"It's very much part of our mandate in the urban studies program and at Innis College to build relationships with the city and communities around us," says Brail. "The partnership really has a mutual benefit because the documentary films that they're showing are an opportunity for our students and our community to learn from other places and to learn from one another."
UTC