'Thoughtfully conceived': University College revitalization praised in Canadian Architect magazine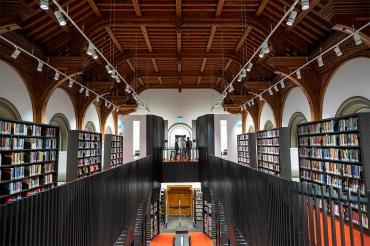 The revitalization of one of the University of Toronto's most significant heritage buildings – University College – is "thoughtfully conceived" and "precisely executed," says Canadian Architect magazine.
The article – written by Pamela Young – praises Kohn Shnier Architects and heritage specialists ERA Architects for their "strategic and surgical" revitalization of the 163-year-old building.
A key part of the project was the return of University College's library to its original home in the building (a fire in 1890 gutted most of the interior). The architects also included accessibility upgrades with the integration of ramps and a new elevator, a renovation of the West Hall reading room and various classrooms and offices, a new café and more.
"We were trying to solve oxymorons – to create interventions that are clearly of this moment, but at the same time look as though they've always been there," John Shnier, associate professor at the John H. Daniels Faculty of Architecture, Landscape, and Design and a partner in the Kohn Shnier Architects, told the magazine.
UTC