Seven ways to connect with campus life at U of T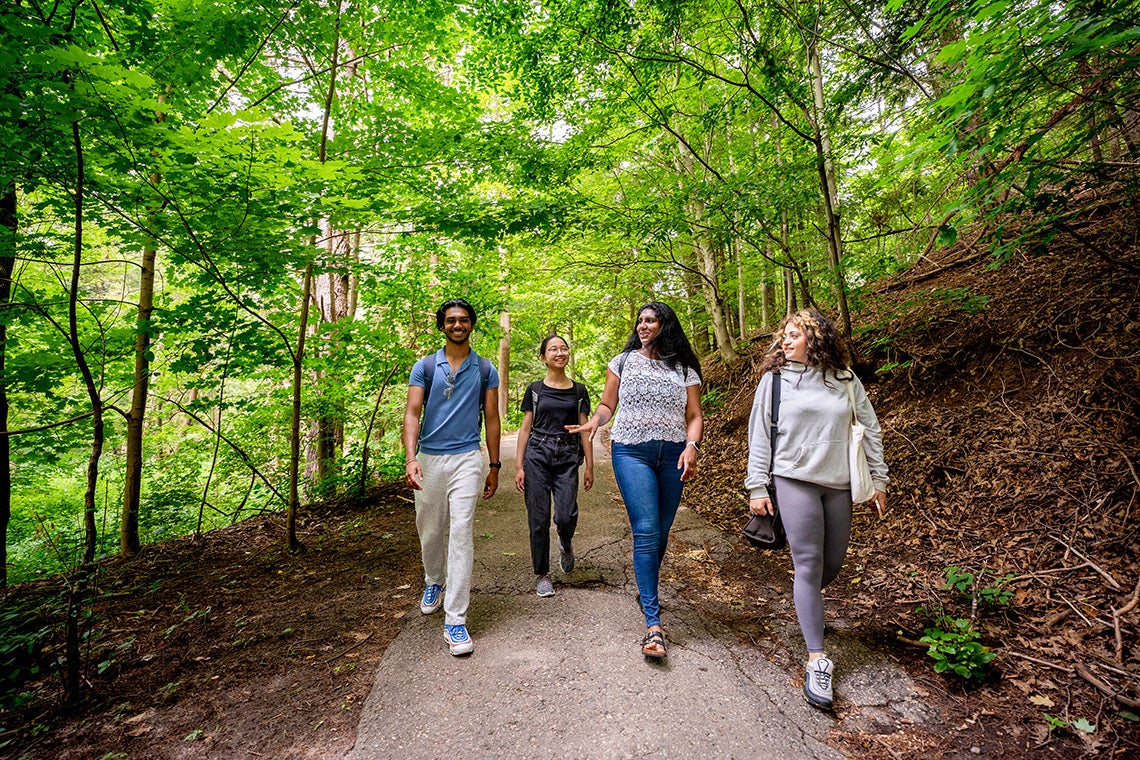 This year's back-to-school season promises to be bigger than ever at the University of Toronto.
With many upper-year students returning to campus in earnest after two years of virtual and hybrid classes, tens of thousands of students will be looking for ways to connect – or reconnect – with campus life.
So, whether you're a first-year student or a returning student coming to campus for the first time this fall, here are a few suggestions on where to make friends and find your community – a key part of the U of T experience.
Get connected at Hart House
A hub of activity at U of T, Hart House is a picturesque space with an almost Hogwarts feel. Beyond the eye-catching architecture, there's an art museum with year-round programming, a theatre, fitness centre, pool, basketball court and running track – and places to grab lunch.
Students can find a wide variety of speaker events focused on arts and culture, literature, and wellness, as well as a plethora of clubs for those interested in everything from archery and scuba diving to jazz music and film.
On Sept. 22 from 11 a.m. to 3 p.m., Hart House is hosting Xplore Hart House, an orientation and open house featuring free food, music, games and activities and more.
Hart House is located south of Hoskins Avenue, between Queen's Park Crescent and Tower Road. There is elevator access to all floors of Hart House and accessible washrooms on the main floor outside of the Great Hall and in the Hart House Theatre lobby. There are two accessible entrances and exits on Tower Road and on Hart House Circle.
(photo courtesy of Hart House)
Catch up with friends at Innis Café
Before the cold weather arrives, grab a bite to eat at Innis Café and enjoy the rooftop terrace with a friend. A beloved institution among U of T students, Innis Café is located at 2 Sussex Avenue on the St. George campus. The café and bathrooms are accessible.
Long-time café owner Gunash Agar along with her husband and son make everything from scratch. Students can find a selection of daily breakfast and lunch specials, with vegetarian, vegan and halal options.
Get fit with your friends on the three campuses
U of T students looking to stay active or participate in intramural sports have plenty of options across the three campuses.
At U of T Mississauga, the Recreation, Athletics & Wellness Centre has two gymnasiums, three squash courts, an indoor track, swimming pool, dance studio, weightlifting room, soccer fields, facilities to play tennis and beach volleyball – and more. Located on Outer Circle Road, the fitness centre features group fitness classes as well as women's-only programs. The indoor running track at the centre is accessible by an elevator. At the swimming pool, there is a lift that can be accessed from the whirlpool or the pool for individuals who may be mobility impaired. The change rooms are accessible.
Students at U of T Scarborough have access to the Toronto Pan Am Sports Centre, which is co-owned by U of T Scarborough and the City of Toronto. It features a fitness and aquatic centre as well as a field house and climbing wall. There is a variety of drop-in programs, including badminton, basketball, table tennis and pickle ball. The centre meets the highest provincial accessibility standards with two accessible change rooms, oversized elevators, wide routes, powered door openers, as well as enhanced seating and tethering areas for service animals in all aquatic halls and the field house. The training pool has a moveable floor to accommodate various water depths and mobility levels.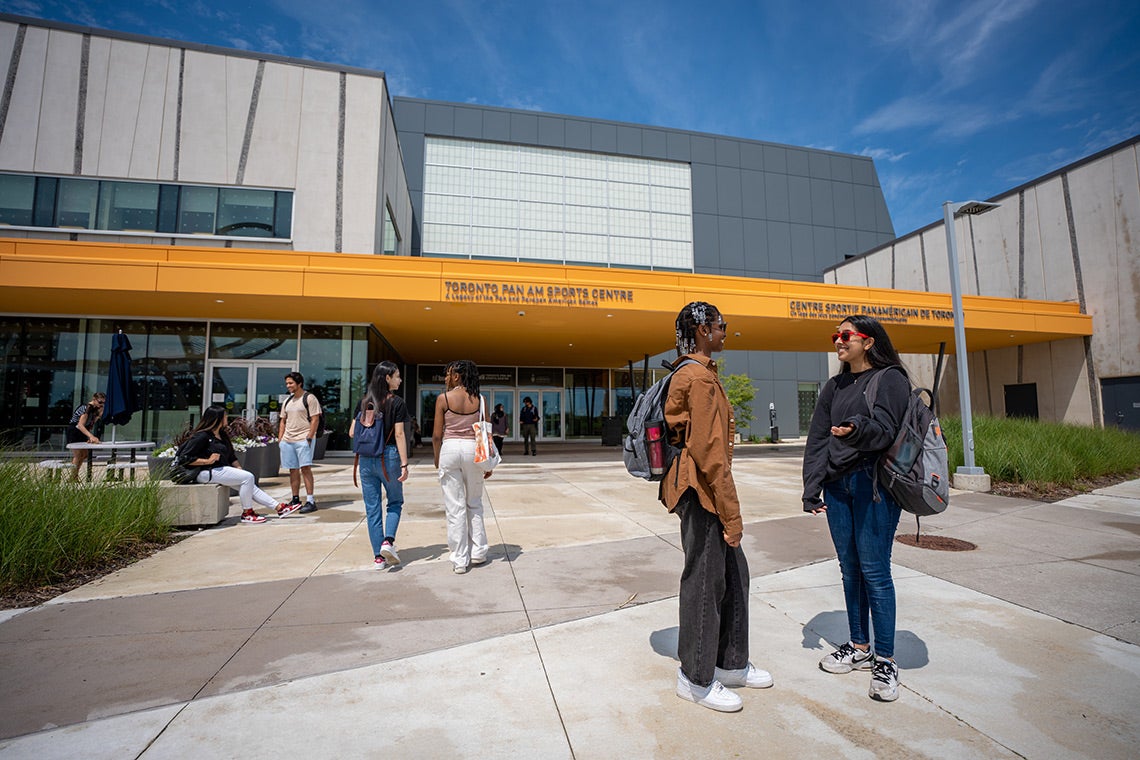 (photo by Matthew Dochstader)
On the St. George campus, the Athletic Centre is home to seven gyms, three pools, a strength and conditioning centre, indoor track, field house, dance studio, cardio machines, tennis and squash courts, steam room, among other facilities. Some gyms at the Athletic Centre – located at the intersection of Spadina Avenue and Harbord Street – are accessible, including the strength and conditioning centre, sports gym, field house court and track lane, and dance studio. The Varsity and Benson pools are also accessible.
Students on St. George can also use the Goldring Centre for High Performance Sport, home to the U of T Varsity Blues basketball and volleyball teams. The facility, completed in 2014, features a strength and conditioning centre, fitness studio, sport medicine clinic, research and teaching laboratories.
Membership to all facilities is paid through a students' incidental fees and can be accessed using a TCard.
Be part of the U of T Scarborough student hub at Highland Hall
Highland Hall is a central location on the U of T Scarborough campus that is home to hundreds of study and hangout spaces, the social sciences departments, a recently opened café, the registrar's office, exam and conference centre, admissions and student recruitment office, the international student centre and much more.
The space – located on Military Trail – also features the Hub, U of T Scarborough's entrepreneurship incubator. Students are welcome to work in the Hub to create and launch new business start-ups.
A cool feature of the building is the two large north and south-facing windows that depict maps of Scarborough in the 1960s and in the 2000s. The building has an accessible entrance and exit as well as an elevator indoors.
The U of T Scarborough campus is surrounded by beautiful green space and several walking and running trails. The Valley Land Trail provides an accessible link for students and the community to the Highland Creek Valley. The 500-metre-long trail features charging stations for motorized accessibility devices, multiple raised lookout points with accessible seating and LED lights built in for evening strolls. It's a great way for students to connect with the campus, each other and the city of Toronto.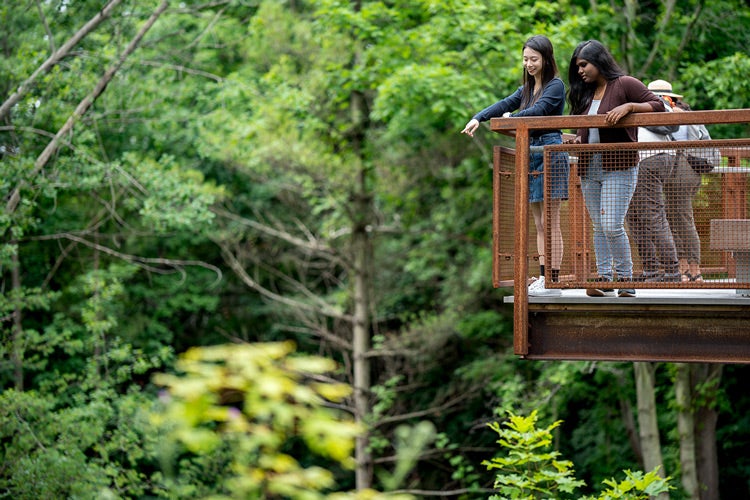 (photo by Matthew Dochstader)
Start a study group at Robarts Common
An airy new addition to Robarts Library on the St. George campus, Robarts Common is a five-storey study and meeting space for U of T students.
The multi-year renovations resulted in 1,200 new study spots, soundproof rooms with big screens to practice presentations and charging stations everywhere.
There are also accessibility features for individuals with hearing loss, epilepsy, and those with autism spectrum disorder. The study rooms have dimmable lights, the walkways are wider in width and there are automatic curtains to block natural light to help with sensory output. There is a mix of fabric and non-fabric chairs as well as carpet to keep noise to a minimum. There are different heights and configurations for working stations, too.
The Fourth Floor Heritage Room is another revamped area of the library that's newly opened for the fall semester. The space is an accessible and accommodating study area with features to give students a balance between wellness and education, including standing and sitting desks, lounge seating, acoustic panels to improve sound quality and two SAD lamp therapy lounges.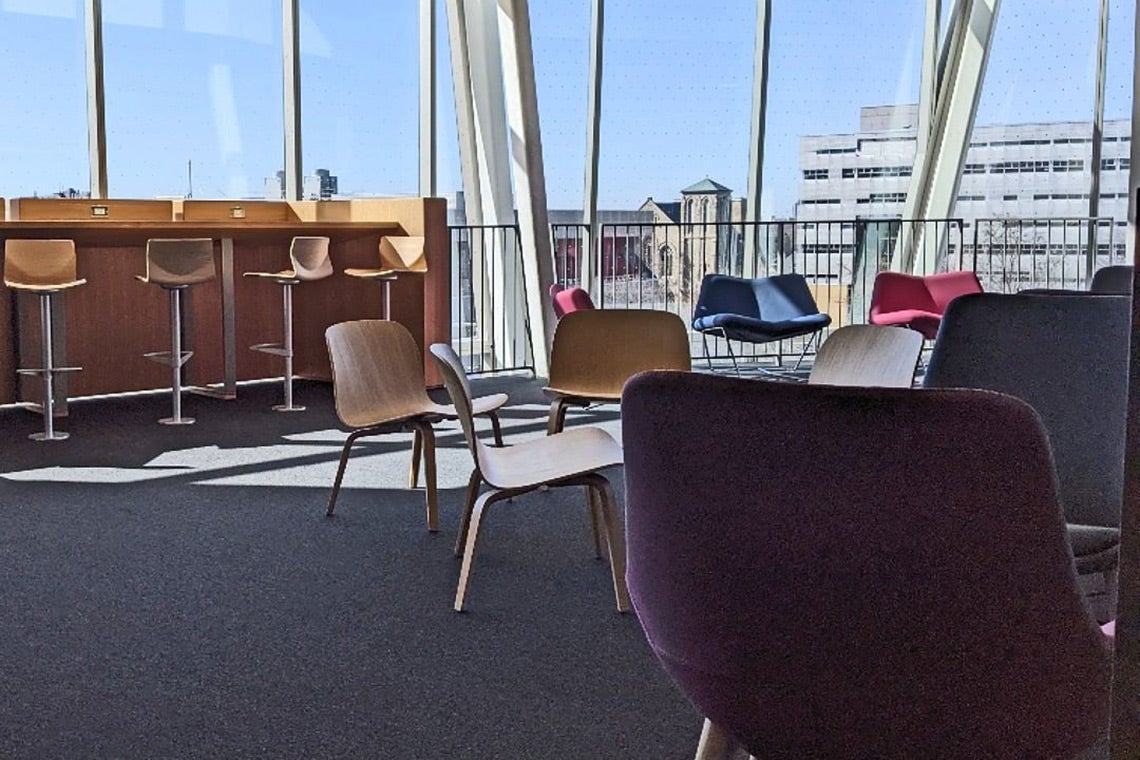 (photo courtesy of U of T Libraries)
Gather at U of T Mississauga's Meeting Place
The Meeting Place – inside the William G. Davis Building at U of T Mississauga – is a great place for students to grab a coffee or tea, catch up with a friend or form a study group.
The Meeting Place received a recent makeover with a redesign of the food services area, student services plaza, a new entrance to the building and more seating indoors and outdoors. Located on Inner Circle Road, there is an accessible entrance and exit into William G. David Building, as well as an elevator.
Other services inside the building include a bookstore, an accessibility resource centre, conference and events services, a career centre and health services. 
Socialize at the new Student Commons space
Student Commons is a new space on the St. George campus for students to study, meet and socialize. It will host its grand opening on Sept. 6 from 12 to 4 p.m. There will be food, movies and a disco party to celebrate the new space, which is run by the U of T Students' Union.
There are several meeting rooms and study areas with Wi-Fi throughout the building. Programs such as bike repair, a food bank, club spaces, events spaces are available. The prayer room, which includes two ablution spaces and smudging rooms, is undergoing construction and will be ready by the end of the year.
There are two accessible entrances and exits to the building – one is on Huron Street on the west side of the building and the other is on the east side facing the Fields Institute for Research in Mathematical Sciences. There is an elevator located at the centre of the building that runs from the basement to the 5th floor and barrier-free washrooms on all levels.
For more information on accessibility services, each U of T campus has a dedicated Accessibility Services office that helps students navigate the university based on their needs.
UTC