Researchers examine impact of immigration status and racism on child welfare system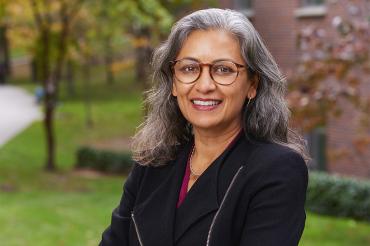 As someone who works with women and children who have experienced domestic violence, Shaoli Choudhury sees how difficult it can be for them when the child welfare system becomes involved in their lives. If those families are also newcomers to Canada, more problems often arise.
"They worry about having their children taken away, but also about increasing their risk of deportation," says Choudhury, who oversees three transition houses for YWCA Metro Vancouver. "There's a lot of uncertainty for immigrant families – and for those of us working in the field."
To help reduce that uncertainty, she's partnering with Bordering Practices: Systemic Racism, Child Welfare and Immigration, a collaborative research project funded by the Social Sciences and Humanities Research Council of Canada and led by Rupaleem Bhuyan, an associate professor at the University of Toronto's Factor-Inwentash Faculty of Social Work, and Mandeep Kaur Mucina, an assistant professor at the University of Victoria's School of Child and Youth Care.
The initiative involves community partners in both Toronto and Vancouver who are working together to better understand the roles that immigration status and systemic racism play in child welfare policies and practices – especially if one or more family members has precarious status. 
"My colleagues and I recognize that there's a knowledge gap in terms of how the child welfare system interacts with immigrant families," says Choudhury. "By offering our perspective and learning from the researchers and other service providers, we're hoping to help bridge that gap and better support families."
Bhuyan says there are very few guidelines on how to manage immigration status in child welfare. "As a result, the level of awareness about immigration issues varies widely among frontline workers and decision-makers," she says. "In Ontario and British Columbia, most child welfare policies don't even use the word 'immigrant.'" 
When it comes to immigrants with precarious status – which can include anyone who is not a Canadian citizen, documented or not – there are even fewer resources.
The absence of language in provincial legislation recognizing the issues that impact immigrant families is comparable to the lack of specific language acknowledging the existence of anti-Black racism for Black families, says Travonne Edwards, a PhD student in social work and a member of the project's advisory board. He works closely with the Black Community Action Network of Peel as part of his research with the Youth Wellness Lab, which is examining the over-representation of Black families in Ontario's child welfare system.
"This silence directly influences child welfare practice," he says. "It allows for ambiguity in interpreting policies and prevents a more critical and nuanced understanding of the issues impacting Black and racialized families that are dealing with precarious status." Research by Edwards and colleagues has led child welfare agencies to pay closer attention to racial disparities experienced by Black children. He says this project aims to produce a similar evidence base to spark action and reform.
A growing number of people living in Canada are racialized immigrants with precarious status as temporary workers, international students, refugee claimants or non-status residents. "It's impossible to know the true number, but rough estimates run up to 1.6 million including undocumented immigrants," Bhuyan says. "These individuals and families confront multiple barriers to accessing social services and experience economic hardship and racism – all factors that affect their interactions with the child welfare system."
In the project's title, "bordering" refers to the political and social processes that differentiate groups by race, gender and immigration status. "Lines between 'us' and 'them' determines who belongs and who has rights in everyday life" says Bhuyan, "so [bordering] shows up all the time in the everyday life of immigrants."
Working in partnership with community-based researchers and advocates in Toronto and Vancouver, the Bordering Practices research team – with co-investigators Bryn King, an assistant professor in the Factor-Inwentash Faculty of Social Work, and Rhonda Hackett, of the University of Victoria, are taking a multifaceted approach to establish a baseline understanding of how federal and provincial policies shape risk assessment for child abuse and neglect among racialized immigrants.
In addition to policy analysis, the project is committed to advocacy. Last October, the research team and the South Asian Legal Clinic of Ontario submitted a formal response to proposed changes to Ontario's Child, Youth and Family Services Act. "We urged the government to provide better guidance for social workers on cases involving children and families with precarious immigration status and recommended an 'Access Without Fear' policy, which safeguards people with precarious status against detention or deportation when they're accessing essential services," says Bhuyan.
The project is rooted in community participation across the fields of child welfare, immigrant services, anti-Black racism and gender-based violence. The aim, says Edwards, is to break down the silos between these sectors and forge connections that will lead to meaningful change for immigrant families in the child welfare system. "There are people in all of these areas doing amazing work, but it's disjointed. We're creating opportunities to bring our work into harmony."
These opportunities include ongoing focus groups with people at various vantage points within the system – from policy-makers and child welfare managers to frontline workers and child welfare advocates – and community forums, where stakeholders can gather to discuss common concerns and goals. The first community event, Silos and Silences: A Forum Shedding Light on Child Welfare and Immigration Status, will take place this Friday. 
"Our primary goal is to raise awareness and share knowledge," says Keishia Facey, a project partner from the Ontario Association of Children's Aid Societies (OACAS) who will moderate the forum's panel discussion. She is the manager of the OACAS's One Vision One Voice program, which addresses anti-Black racism experienced by African-Canadian families in the child welfare system. "There's no single, accepted way of protecting the rights of children and families with precarious status, and being part of this project allows us to use our platform to say this needs to change."
Facey's colleague, Chizara Anucha, a U of T master of social work graduate and community engagement specialist at One Vision One Voice, will lead a workshop following the panel discussion on child welfare risk assessments for Black immigrant families. In another workshops, Choudhury will consider how social workers can manage the immigration status of women experiencing domestic violence when there's a likelihood of child welfare involvement.
"This research is only meaningful if it includes people who are directly impacted by it," says Bhuyan, adding that another phase of the project will collect stories from families with precarious immigration status who have been involved in the child welfare system. "We're creating spaces for conversation so we can continue to build this knowledge together."
Social Work