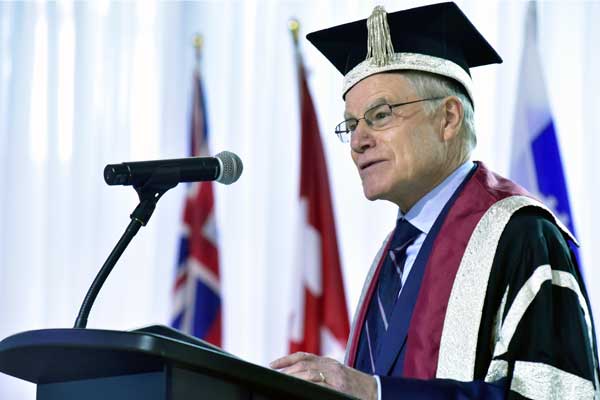 Professor Bruce Kidd installed as 10th principal of U of T Scarborough
Bruce Kidd vowed to advance University of Toronto Scarborough's ambitious plans for the future as the renowned athlete and academic was officially installed as the 10th principal in campus history.   
"U of T Scarborough constitutes an integral part of Canada's leading university," said Professor Kidd in his installation speech, which outlined his goals for the upcoming term.
"Our campus continues to fulfill its original promise as an innovative, accessible and research-intensive university, while also serving as an important economic engine and cultural centre for one of Canada's fastest growing and most vibrantly diverse regions."
Kidd emphasized his continued support of UTSC's ambitious strategic plan and master plan, while outlining several priorities on his "to do" list, including helping to guide further physical and academic growth on campus as well as working with community partners to address Scarborough's inadequate public transit.    
U of T President Meric Gertler administered the oath of office before announcing Kidd's official installation in front of a packed crowd at the Toronto Pan Am Sports Centre. 
"Bruce Kidd embodies the ethos of UTSC," said Gertler. "His fundamental commitments to inclusiveness, community, excellence and innovation; his ability to connect with everyone he meets; his easy rapport with students; his warmth and generosity – in sum, Bruce's character is ideally suited to guide UTSC through the next chapter in its history." 
Kidd began his speech by reflecting on his deep connection to Scarborough. He moved to the former township with his family in the early 1950s at just three years old and spent his formative years in the burgeoning suburb where opportunity and progress were talked of enthusiastically, especially in terms of making education more open and accessible. 
He also vowed to continue championing not only UTSC but also raising the profile of Scarborough at home and abroad. 
"Despite what some critics may say, Scarborough continues to be a vibrant community where countless people have built rich lives and neighbourhoods. It's a place with amazing restaurants, cultural institutions and community supports. UTSC is part of that ongoing tradition, and it's invigorating to be part of it," he said. 
Kidd was joined by his wife Phyllis, brother David and other members of his extended family; dignitaries including Vice-President and Provost Cheryl Regehr; Judy Goldring, chair of Governing Council (centre, below); The Honourable David Onley, 28th Lieutenant Governor of Ontario; Mary-Ann Chambers, Legislative Assembly of Ontario; The Honourable Mitzie Hunter, MPP Scarborough-Guildwood; The Honourable Brad Duguid, MPP Scarborough Centre; former UTSC Principal Franco Vaccarino; and UTSC faculty, staff and students.  
In addition to being a distinguished academic and experienced administrator, Kidd is also an accomplished athlete. Twice elected Canada's male athlete of the year in 1961 and 1962, he was awarded the Lou Marsh Trophy in 1961 and won a gold and bronze medal in the 1962 Commonwealth Games as a distance runner. 
His remarkable career in athletics was capped off with induction into Canada's Sports Hall of Fame in 1968, induction into the Canadian Olympic Hall of Fame as an athlete and builder, and being made an Officer of the Order of Canada for having "devoted his life to eradicating sexism and racism in sporting communities around the world." 
His passion for promoting physical health is also incorporated into his daily routine including weekly pilates classes, cycling, walking and even scheduling walking meetings in the valley on campus. 
Kidd, who was the founding dean of the Faculty of Kinesiology and Physical Education before taking roles at the School of Physical and Health Education and Warden of Hart House, became UTSC's interim principal in 2014. He helped guide the campus through its 50th anniversary celebrations and continued to promote accessibility in sport during the Toronto 2015 Pan Am and Parapan American Games. 
He concluded his installation speech by expressing excitement for his term ahead.
"UTSC is one the most ambitious and rewarding educational and social experiments that I've ever been a part of in my life. I will dedicate myself to advancing the UTSC mission – a proud tradition of innovative education, leading-edge research, community engagement and playing an integral role in the U of T tri-campus system."