National Day of Remembrance & Action commemorated at U of T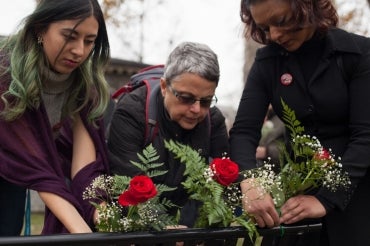 University of Toronto students, staff and faculty observed the National Day of Remembrance & Action on Violence Against Women across all three campuses on Tuesday. 
At Hart House, the U of T community gathered behind a display of 14 red roses – one for each of the women at École Polytechnique shot and killed Dec. 6, 1989, by a man who professed his hatred of feminism. At the end of the Hart House ceremony, attendees placed the roses on a bench at Hart House Circle.
This year, the University announced a new award for students who have contributed to research on gender-based violence. 
"Gender-based violence in any form is a violation of human rights," said Kelly Hannah-Moffat, U of T's vice-president of human resources and equity. "Developing and implementing effective strategies to end the violence requires a multi-pronged approach and one where student research and advocacy play essential roles." 
The university is offering two awards, one to an undergraduate and another to a graduate student, each valued at $1,500. They are meant for students whose research has contributed to the understanding, prevention and/or intervention in the area of violence against women and girls, or trans and gender non-binary people. 
Members of the university's First Nations House were invited to the ceremony, to call attention to the problem of missing and murdered Indigenous women.
At one table, people used ribbons to make stars for the One Million Stars to End Violence community project. The stars will be shown at the Hart House Hub before they are shipped to Australia for the 2018 Gold Coast Commonwealth Games. 
Kirstin Romaine and Carol Tan, a Hart House student ambassador, made stars out of ribbons for the One Million Stars to End Violence community project (photo by Geoffrey Vendeville) 
STEELwool, a project of the United Steelworkers union, brought together veteran and novice knitters for a one-day art installation across all three campuses, of colourful handmade scarves – each tagged with the name of the creator or donor. 
The theme of the project was: "Warming all people of any gender, race, age, sexual orientation and ability across U of T", and the initiative was developed and organized by the USW Human Rights Committee. The scarves will be donated to various charities across Toronto and the GTA.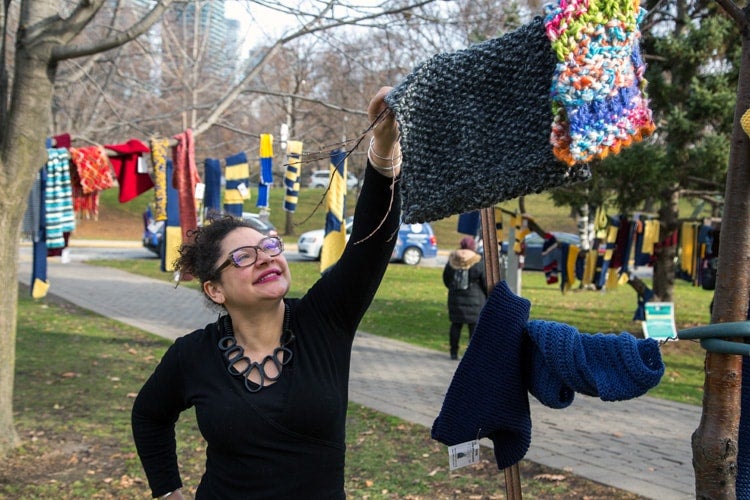 The display outside Hart House was one of three installations organized by the USW (photo by Johnny Guatto
)
Gender-based violence remains a pressing problem and obstacles persist for women in fields like engineering, said Susan McCahan, U of T's vice-provost of innovations in undergraduate education. There's "a continuing need" to talk about the issue and address it, she added.
"The shooter didn't make up the idea that women are not welcome in an engineering classroom," she told U of T News in an interview. "He just amplified it to a tragic degree."
U of T has made important strides in making engineering classrooms more inclusive, McCahan said. Last year, the Faculty of Applied Science & Engineering celebrated
a record number of female first-year students
. Across all programs, 30.6 per cent of new students were women, a higher ratio than that of any other Ontario university and more than double the provincial average. 
Work still remains on empowering women in science, technology, engineering and mathematics – and that was the message of a temporary installation built by U of T undergraduate engineering students to honour victims on the massacre. 
"Although there has been a lot of significant progress in gender equality in STEM, women still face barriers and social stigma," says a plaque that is part of the installation outside Convocation Hall. "Fight this stigma and ensure that women have support and opportunities to pursue and excel in STEM."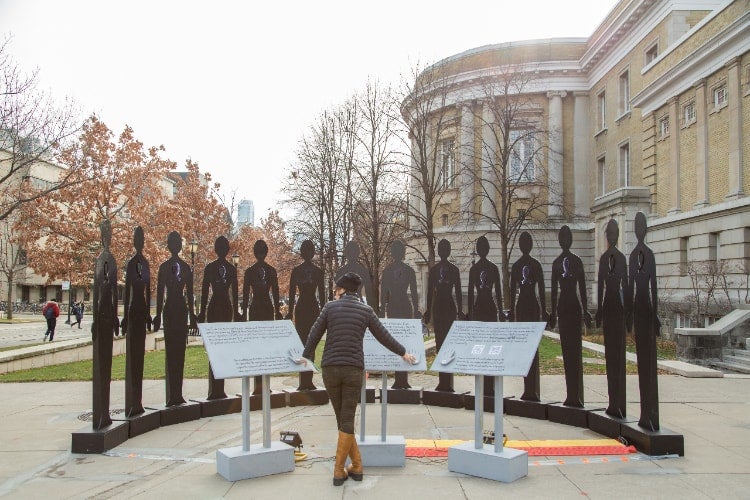 U of T undergraduate engineers built this temporary installation just south of Convocation Hall in memory of victims of the Montreal Massacre (photo by Johnny Guatto)