In law and medicine, twins and soon-to-be U of T graduates advocate Indigenous representation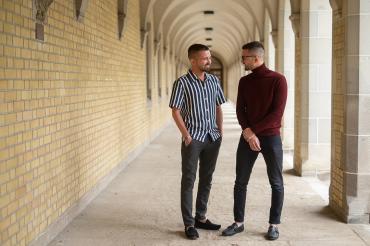 Patrick Sobchak was one of the few Indigenous students in his law classes. So was his identical twin brother Curtis, who studied medicine. 
As students, they got involved in different causes to give voice to Indigenous Peoples in their respective fields – and they plan to continue their advocacy following their respective convocations in June.
Patrick, for example, worked for the Ontario Ministry of the Attorney General in Windsor, Ont. through the Aboriginal Law Summer Student Program.
"I was the only Indigenous person on staff," he says, adding he brought cultural competency to cases. "The Crown office has had very negative relationships with Indigenous Peoples. As a member of this program, I was on the forefront of mending those relationships.
"I'm very thankful that I got to make some meaningful steps toward reconciliation."
Across Canada, people who identified as Aboriginal made up 4.5 per cent of the population according to the 2016 census. But they were less than two per cent of judges, lawyers and Quebec notaries, and in medicine they represented just one per cent of specialists and GPs. 
The 25-year-old Sobchak brothers, who have Upper Mohawk ancestry and grew up in St. Catharines, Ont., want to help correct those imbalances.
The twins' grandmother, Helen, spent her childhood in Ohsweken, a village in Six Nations of the Grand River near Brantford, Ont. "When she moved off she tried to shed her Native identity and didn't identify that way because she put up with so much racism and abuse," Patrick says. She hardly spoke about her past, even to her grandkids.
As the twins learned more about their family history, being Indigenous increasingly became an integral part of their identity. Their father took them to Ohsweken, showing them the cemetery where their great-grandparents are buried, their grandmother's former house and the place where they attended their first powwow as babies.
In high school, the twins saved up for university tuition by getting jobs at Tim Horton's and working shifts that sometimes started before sunrise and sometimes ended after midnight. At the same time, the brothers were national-level wrestlers and juggled twice-daily practices – one outlet for a sibling rivalry which was so strong they were put in separate classrooms from grades one to five.
In his first year at U of T, Patrick joined the Indigenous Law Students Association to advocate more Aboriginal values and law in the curriculum. He and other members of ISLA led students, staff and faculty through a blanket exercise meant to introduce participants to Indigenous Peoples' experiences of being removed from their land. 
Patrick later received the Dr. Lillian McGregor Award, given to U of T students with a record of service to Indigenous causes. The award's namesake was a leader in the Friendship Centre movement and the university's first elder-in-residence. 

Patrick and Curtis Sobchak in University College's Junior Common Room (photo by Geoffrey Vendeville)
In U of T's Faculty of Medicine, meanwhile, Curtis called attention to the lack of Indigenous representation and the obstacles that Indigenous Peoples face in health care.
He worked three weeks in Little Current, Ont., the largest town on Manitoulin Island, where he looked after Indigenous patients. "These are the communities I want to work in," he realized. "I want to give back to these people, my people, and really advocate for them and be that voice."
During a rotation, Curtis learned he was his attending physician's first Indigenous trainee. He saw that the situation spoke to the lack of diversity in medicine and wrote about the experience in the Canadian Medical Association Journal Blog: "There have already been many steps taken to tackle gender and racial disparities in medicine, and these have been done through evidence-based data dissemination. But we have not seen these same steps for the Indigenous population," he wrote. 
Dr. Lisa Richardson, a general internist at the University Health Network and co-lead of Indigenous Medical Education at U of T, has known Curtis since he started studying medicine. "I was proud of him for having the courage to write a really important piece that discusses something that many people don't want to talk about," she says of his CMAJ article.
"In fairness, it's getting much better," she adds. U of T established an Indigenous student application program for the MD program in 2011. Candidates must meet the same GPA and MCAT requirements, but their applications are reviewed by Indigenous doctors and community members. "We're slowly getting there," she says. "It takes time to do the work that we need to do to be able to recruit and support Indigenous students."
Curtis has all the makings of a great clinician and researcher, she says. "Furthermore, I expect him to continue to be an amazing role model and advocate for system-level change."
Curtis's next move is a residency in internal medicine at McMaster in Hamilton, not far from Ohsweken. He plans to sub-specialize in rheumatology and study why Indigenous Peoples experience higher rates of illnesses like rheumatoid arthritis and lupus. 
As for Patrick, he's due to begin articling at Blake, Cassels & Graydon, a Bay Street firm specialized in international corporate law. His long-term goal is to set up his own practice with an Indigenous and environmental law focus.
He encourages other students to take advantage of every opportunity while in university, even if it's not immediately clear where it will lead. He found his calling only after completing a thesis in evolutionary ecology, helping him realize he'd rather spend a career in law than in a lab. 
Curtis has some parting advice for Indigenous students in particular: "We hadn't been our true selves until we really came to know our Indigenous heritage," he says, "Be proud of your identity."
UTC