'I had to pave the path for myself': Iakoiehwáhtha Patton on being named a Rhodes Scholar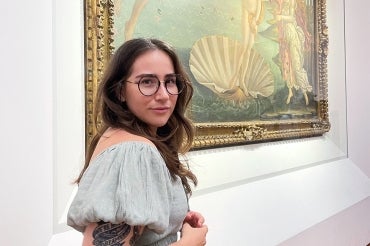 Iakoiehwáhtha Patton, a fourth-year art history student at the University of Toronto and member of the Kanien'kehá:ka First Nations community in Quebec, was caught off guard when she found out she was headed to the University of Oxford as a Rhodes Scholar.
"It's completely unbelievable," says Patton, who was notified of the scholarship via a phone call that was briefly disconnected as she walked through her apartment building.
The Victoria College student frantically ran through her hallway, waving her phone in an effort to find a signal. 
"All I heard was, 'You're on speakerphone … Congratulations, you've been awarded the Rhodes Scholarship.' And the only words that I could say was, 'Oh my God.' Then I started crying."
Patton – who is believed to be the first Indigenous, First Nations woman from Canada to receive the prestigious award – then called her mother in Kahnawake, the Kanien'kehá:ka (Mohawk) community outside Montreal. "The first thing she asked was, 'Are you kidding? This is a terrible joke.'"
Soon after, the well wishes and congratulations began pouring in from family, friends and from U of T's Faculty of Arts & Science community.
"On behalf of the Faculty I want to congratulate Iakoiehwáhtha for this historic achievement in becoming the first female First Nations Rhodes Scholar," says Melanie Woodin, dean of the Faculty of Arts & Science. "Driven by passion and her identity, she has blazed a trail of accomplishment inside and outside the classroom, worthy of one of the world's most distinguished academic honours."
Rhonda McEwen, president and vice-chancellor of Victoria University in the University of Toronto – which includes Victoria College – also offered her warm wishes.
"On behalf of the entire Vic community, I offer heartfelt congratulations," says McEwen. "[Iakoiehwáhtha] continues to exemplify outstanding leadership and passion for making the world a better place, an important shared value at Vic. We all join in a sense of pride when our students achieve their goals and pursue their dreams, and I know that Iako will continue to achieve her big ambitions."
Studying art history, anthropology and Renaissance studies, Patton has a passion for Netherlandish art – art produced by Dutch artists during the 15th- and 16th-century Northern Renaissance period.
She's exploring the intersections of gender, colonialism and its artistic representations. And she says she can't wait to continue her studies at the University of Oxford, focusing on the imaging of North American Indigenous peoples in Netherlandish art. She hopes to shed light on the deeply rooted inequalities of colonial and gender relations embedded within these works.
"I began studying Netherlandish art because I loved Rembrandt – I loved the Dutch Golden Age," says Patton, who is president of the History of Art Students' Association and a member of multiple Indigenous advisory committees.
"I took all the classes taught by Professor Ethan Matt Kavaler," says Patton. "He's phenomenal, and he really cultivated my passion."
There's also a very personal connection to this period for Patton.
"The Dutch had one of the biggest colonial empires at the time," she says. "They had a colony in the United States called New Netherland that extended from Albany all the way to Delaware. And that was where my people were situated in the 17th century. So there's this overlap of my discipline that I love and my community's history."
She says more research is needed on the North American context of Netherlandish art and how depictions of Indigenous Peoples, culture and materials impacted European artists.
"That's what I want to study at the graduate level," she says. "Art communicates values, communicates belief systems – and it's situated within its cultural context. And it can never be devoid from its colonial context. You can't separate it. Our art history is history."
What makes being invited to Oxford so surreal for Patton is that she never envisioned becoming a Rhodes Scholar. She thought these scholarships were meant for scientists, engineers, budding political leaders and CEOs, not arts students.
"I had a very narrow idea of what a Rhodes scholar was, I didn't think I fit that mould," she says. "I didn't even know they looked for people in the humanities. It always seemed so untouchable, especially coming from my background."
But through the support of her college and professors, the idea of studying at Oxford became attainable.
"The support from everyone at the university and Victoria College has been incredible," says Patton. "I want to specifically thank the department of art history for the past three years. I have grown into the scholar and leader I am because of their guidance and encouragement."
She says she approached the life-changing opportunity presented by the scholarship like every other academic challenge she has faced – creating her own road.
"My parents didn't go to university and I didn't really have Indigenous academic role models, especially in my field," she says. "So, I've always felt I had to pave the path for myself. But in doing that, I always felt like I had a responsibility to do that for other Indigenous scholars as well.
"I know that I'm the first in a lot of the things that I'm doing, though it was unintentionally. But I know the weight and responsibility that I have as an Indigenous woman. It's not just about me anymore."
Patton has been to England once as part of a student exchange in Grade 11. So, the idea of living on her own overseas is a little daunting. But that's overshadowed by the excitement of getting to know her fellow students and instructors.
"The Rhodes community is so diverse – they come from so many different areas of life, different countries, different disciplines," says Patton. "I've heard that it's so tight knit and once I announced on social media that I got the scholarship, I had so many people who are still at Oxford, or have gone to Oxford through the Rhodes Scholarship, reach out to me."
She's already connected with her newfound network, learning about what to expect. "It was just so comforting," says Patton. "They responded immediately and are answering any questions I have."
What does she want to do after finishing her next degree?
She sees herself completing a PhD in art history but how, when and where will likely be determined by her time as an Oxford student.  
Says Patton, "Every person I've talked to has said the Rhodes Scholarship opens doors to opportunities I can't even fathom, so I want to be open to any opportunity that comes from this."
Arts & Science