High school students tackle global issues at U of T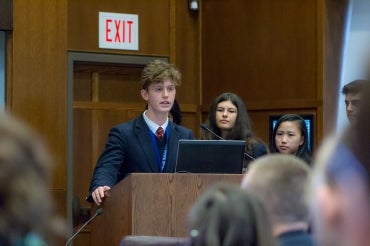 Students from more than 25 high schools across the Toronto area came to U of T's Munk School of Global Affairs last week for the Global Ideas Institute's final symposium.
A collaboration between Munk, University of Toronto Schools, the Rotman School of Management, the Ontario Institute for Studies in Education and World Vision Canada, the program offers students in grades 11 and 12 an opportunity to engage first-hand with the most pressing challenges of our times and work to find innovative solutions. 
This year, students explored solutions to global food insecurity. In previous years, they've tackled other global issues ranging from financial inclusion to birth registration.
Students attend monthly lectures delivered by experts in the field, brainstorm together in facilitated workshops, and are given additional material designed to awaken their creativity – news clippings, academic research papers, personal stories and statistics.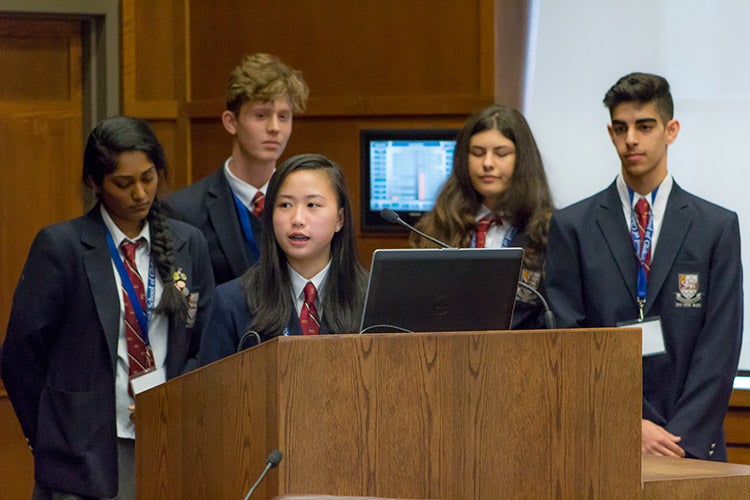 Bayview Glen School students, from left to right, Sangkavi Kuhan, William Stanfield, Yi Li, Chantalle Matousek and Armaan Marwaha (photo by Chris Tomalty)
At the final symposium on Friday, they presented the results of their work to a panel of experts composed of professors, entrepreneurs, and members of non-profit organizations, such as The Shop Community Food Centre or World Vision Canada.
"I came to the Global Ideas Institute thinking this would be a very special experience before stepping into society," says Yi Li, a student at Bayview Glen School. "We met amazing people who taught us how to shape our ideas so they can actually work in real life."
Now in its eighth year, the program is guided by an advisory committee made up of faculty and staff from across the Munk School as well as influencers from outside the university.
"It's about pushing boundaries and creating the next generation of decision-makers by enabling them to acquire the skills they need to be true global citizens," explains Kathleen Gnocato, the program director of Global Ideas Institute and a Munk alumna. "We train students to think holistically about complex issues and encourage them to tackle problem-solving differently."
Munk