First-year course at U of T explores U.S. history through the lens of Hamilton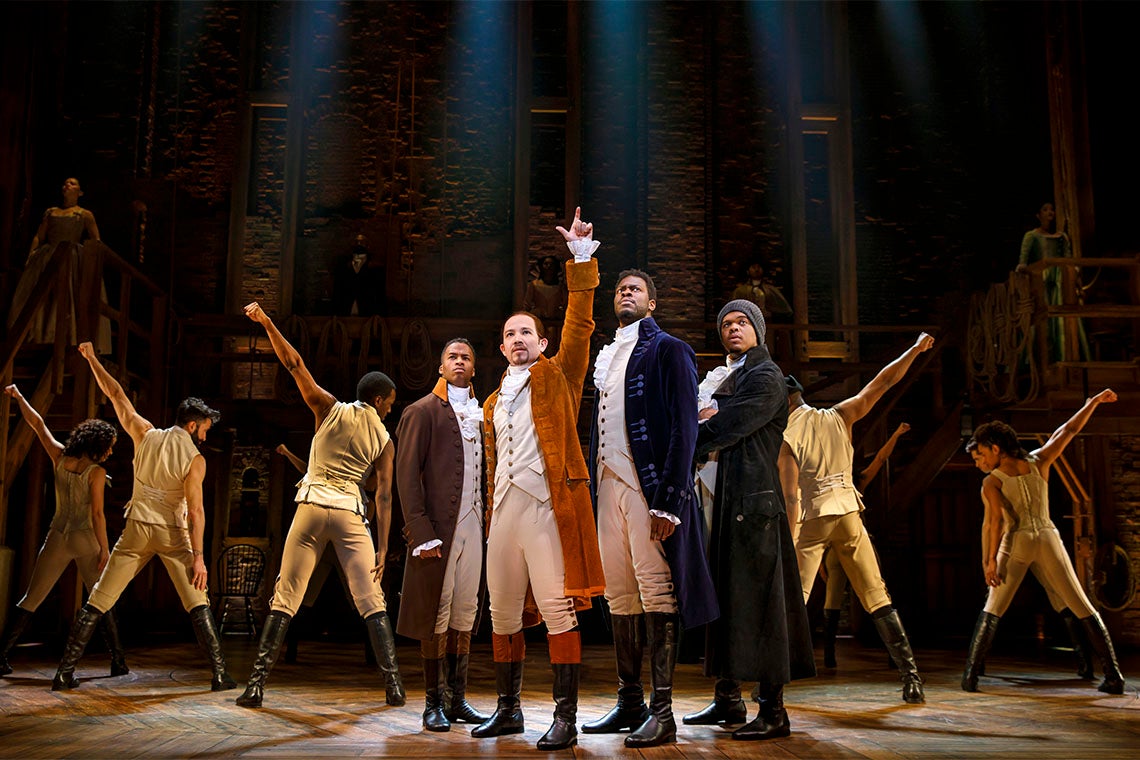 With 11 Tony Awards and a Pulitzer Prize for Drama, the smash hit musical Hamilton is a juggernaut that's introducing early American history to new audiences in a unique way – and historians at the University of Toronto are taking note.
Shira Lurie (left), a University College post-doctoral researcher in the department of history in the Faculty of Arts & Science, is exploring early American history through the lens of Hamilton in her new course: Hamilton: Musical and History.
"The class gives students the opportunity to discuss the musical and also think about early American history, issues of historical representation in popular culture and the benefits and challenges of adapting history for the stage," says Lurie.
Offered as a first-year foundations seminar, Lurie's course puts students in a small class setting – usually capped at 30 students – where they can meet fellow first-years, have more one-on-one time with professors and gain seminar experience early in their academic careers.
"Everyone in the class loves Hamilton, but that's pretty much the only thing the students have in common," says Lurie. "They're from different disciplines and the diversity of perspectives makes for vibrant class discussions."
Lurie says the show's extreme popularity has led to students coming to class with specific questions about the era and the cast of characters portrayed in the show.
"I think the show has definitely increased curiosity about early American history, especially among Canadian students who may not have been familiar with this period before the show became a hit," says Lurie. "But a major part of my job is also to fill in all of the history that the show leaves out."
For Lurie, there's at least one significant gap.
"I find it troubling that you can leave the show and not know that George Washington was a slaveholder," says Lurie. "In fact, I believe the entire place of slavery in the show – or lack thereof – is a major flaw.
"One of the things we discuss in the class is what it means to have people of colour portraying slaveholders – is this an empowering way to reclaim history, or is it an erasure of the Black past, the horrors of the institution and the central place of slavery in the founding of the United States?"
The course, Hamilton: Musical and History, is a first-year foundations seminar that's capped at about 30 students to allow for more interaction with professors and a seminar-style experience (photo by Diana Tyszko)
Lurie says she hopes her students come away from the course with a more critical perception of how pop culture represents history.
"Part of being a critical thinker is being able to criticize the things we love. Some students have been hesitant to think critically about Hamilton and I'm hoping that the course helps them realize that the best art is worthy of scrutiny," says Lurie.
Katherine Jung, a first-year life sciences student and member of Victoria College, says she was interested in the course because she loves Hamilton, but had never studied American history or world history before.
"I was surprised to learn Alexander Hamilton was anti-immigration, especially in his later years when he was brutally vocal about it," says Jung. "It's shocking since the musical has a pro-immigration message and is seen as an immigrant success story with very strong 'work hard and achieve the American dream' undertones."
It's a sentiment shared by classmate Phyllis Scully, a first-year student and member of University College, who says she was only aware of America's founding era through the Hamilton cast recording.
Scully says she's been enjoying the opportunity to dig deeper into the founding era.
"I love the collaborative aspect of this course," says Scully. "Everyone is very insightful and doing the readings for this course is actually fun."
As for Lurie, she says combining her interest in early American history and theatre has been a treat.
"I was a musical theatre fan long before I was a historian of early America, so the chance to chat with students for two hours a week about both of my passions is an absolute thrill," she says.
Arts & Science