#DisplayYourPride and Convocation 2019: Check out these June events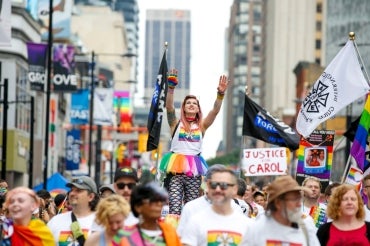 June is a time when University of Toronto students can celebrate academic achievement and student diversity.
The month kicks off with spring convocation, which recognizes students' accomplishments and experiences, as well as their promising futures.
But don't worry if you don't happen to be graduating. There's still plenty of reasons to return to campus, including university-wide celebrations of U of T's LGBTQ community for Pride Month.
Whether you're a grad, part of the queer and allied community, or just a curious student looking for exciting events on campus, be sure to check out all that U of T has to offer during the month of June.
---
June 3
Convocation begins today! Check out U of T's convocation hub for ceremony dates and details, as well as graduation checklists, stories about graduating students, FAQs and more.    
June 4
Find out what we can learn from the making of a book by examining its materiality, script and preservation with Uncovering the Book: An exhibition in honour of Greta Golick. This exhibition on the art of bookbinding at the Thomas Fisher Rare Book Library will run until Aug. 16.
June 5
Explore questions of representation and identity through a multimedia exhibition about intersectionality and diaspora. Artist Abdi Osman's Variations in Black, Queer, and Otherwise runs at the U of T Art Centre until July 27.
June 6
Join U of T's LGBTQ students and allies at the downtown Toronto campus to watch the Pride and Trans Flag Raising Ceremony.
You can also show your support at the U of T Mississauga campus's Pride and Trans Flag Unfurling Ceremony.  
June 7
Bring your friends and family to enjoy the summer weather with drinks and barbecue at the U of T Pride Pub. Located in the Hart House quad, the celebration begins at 4:30 p.m. and runs until 1 a.m., transforming from a community fair to a dance party under the stars.
June 8
Catch Tong Lam's Moving Parts, Moving People, a photography exhibition that spotlights China's outdoor film movement and exposes a culture of propaganda. The event is hosted by the Munk School of Global Affairs & Public Policy in conjunction with the Toronto Reel Asian International Film Festival and the Scotiabank Contact Photography Festival.
June 10  
Update your urban innovation skills through the Urban Leadership eXchange. Attend the U of T Mississauga event June 10-11 to hear talks by keynote speakers including Mississauga Mayor Bonnie Crombie and Acting Principal of U of T Mississauga Amrita Daniere, and walk away with a completion certificate. 
June 11
Celebrate National Indigenous History Month at U of T Mississauga with a screening of Indian Horse, a powerful film that exposes the abuse and trauma inflicted by the Canadian residential school system. You can also catch Kanehsatake: 270 Years of Resistance on June 19 as part of the film series. Each film starts at 5 p.m., but viewers can arrive early to participate in a smudging ceremony and stay afterwards for a discussion moderated by U of T Mississauga's Indigenous advisor, followed by a group reflection.
Join CBC Radio's Quirks and Quarks host Bob McDonald for a moderated discussion on the topic "Should we have humans in space?"  Astronaut Chris Hadfield and U of T's Renée Hložek​ of the own Dunlap Institute for Astronomy & Astrophysics will take part in the talk. Register for free online.
June 12
The U of T Sustainability Innovation Prize is awarding $15,000 in prizes to those with the most innovative ideas. Watch the finalists' pitch competition and see who will go home with the accolades.
Support the U of T Mississauga Indigenous community by attending Giizhiitaa – Coming Full Circle. This event showcases and celebrates the accomplishments of students and Peele youth through their involvement in the Indigenous Spirit Journey Program – an experiential learning initiative centred on Indigenous philosophical and cultural teachings.  
June 13
There are no limits on your creativity today. Decorate your office, wear rainbow clothing and exhibit your colourful artwork in a tri-campus effort to #DisplayYourPride. The downtown Toronto campus is hosting a #DisplayYourPride group photo at Hart House. U of T Mississauga encourages you to share photos of your creativity online.  And U of T Scarborough will spread awareness of the day along with free ice cream. 
June 14
Hosted by the Institute of Health Policy, Management and Evaluation, U.K.-based Professor Daniel Bausch explores the implications of, and possible responses to, infectious disease outbreaks in his lecture "Outbreak Response: Challenges and Opportunities in a Rapidly Changing Landscape."
June 18
Enjoy the gorgeous June weather with a Nature Walk and Talk hosted by U of T Mississauga in partnership with the campus's Indigenous Centre. Led by U of T Mississauga Indigenous Advisor Cat Criger, this event is a perfect opportunity to visit the scenic trails while learning how to approach the changing season with Indigenous philosophies of growth and introspection.
Stumped about what to wear for the upcoming Pride Parade? The Sexual & Gender Diversity Office can help solve your sartorial problems with its upcoming Pride T-shirt Painting Party at 21 Sussex Ave.
June 21
Kick off Pride weekend right by attending the first of the major festivities. Meet at 642 Church Street at 7:50 p.m. to march with the U of T contingent in the Trans March.
There will also be a pride flag celebration taking place at U of T Scarborough.
June 22
Continue showing your support for Pride by marching with U of T in the Dyke March. Meet at 642 Church St. at 1:50 p.m. to participate.
June 23
Be part of the biggest event of Pride Month by joining U of T for the 2019 Pride Parade. Show your support for the school's – and the city's – LGBTQ community.
June 25
Visit the Justina M. Barnicke Gallery at Hart House for a tour of Carrie Mae Weems' exhibition Heave. Running until July 27 with tours available on Tuesdays, this installation intersects sensationalist depictions of modern violence with histories of conflict.
June 26
Experts are asking important ethical, political and cultural questions about emerging technology and the ways in which we communicate at Media Ethics: Human Ecology in a Connected World, the 20th annual convention of the Media Ecology Association. 
June 27
Hear Mariana Mazzucato speak about her book The Value of Everything: Making and Taking in the Global Economy, which outlines the problems with contemporary capitalism. Held at the Rotman School of Management, admission to this event includes a copy of the book.
June 28
U of T recognizes and awards the achievements of Black students at the third annual U of T Black Graduation, located at U of T Mississauga. Friends and family are welcome.
Take a break from convocation with this year's Grad Escape – an improv class at Second City. Sign up to learn new skills that you didn't receive in lectures. 
UTC