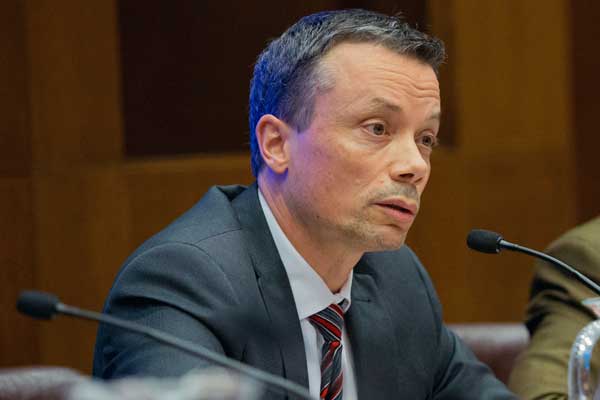 Canada was snubbed at ISIS talks – and we deserved it, U of T professor says
Randall Hansen: "Liberals played shabby electoral politics with a matter of immense international importance"
When defence ministers from the United States, France, Australia, Germany, Italy, the Netherlands and the United Kingdom met in Paris this week to discuss strategy in the fight against ISIS, Canada's defence minister Harjit Sajjan wasn't among them. 
Critics claimed that Canada was snubbed because of the Liberal government's decision to suspend aerial combat missions against ISIS forces, but Sajjan countered that Canada's absence from the meeting was no big deal. 
U of T News asked political science professor Randall Hansen, director of the Centre for European, Russian and Eurasian Studies at the Munk School of Global Affairs for his views. 
---
Why wasn't Canada invited to this meeting?
Because of the withdrawal of our fighters from the war against ISIS. There is and can be no other reason. 
The defence minister says it's no big deal that we weren't invited as there are meetings being held all the time, to which we are invited. Is this true?
No, it isn't true and he knows it or should. We have been excluded from the central defence meeting on dislodging ISIS from northern Iraq.  No amount of spin can hide that.  
Do you think we were snubbed?
Yes, and the Liberal government thoroughly deserved it. The Liberals played shabby electoral politics with a matter of immense international importance. 
Are critics correct in saying that we weren't invited because of the Liberals' decision to suspend air operations?
Beyond a doubt. Our allies, above all the French, were furious with our decision and we are now paying the price. I just came from Berlin where a senior official openly mocked Canadian soldiers who had to take off their uniforms and put on flannel shirts because it made them look like peacekeepers. 
Is this significant?
Yes, as I argued in the past the decision was a bad one in principle – ISIS needs to be destroyed – and it sent a terrible message to our allies, above all one of our oldest – France. 
Should we be concerned?
Yes, absolutely. We've been shut out this key meeting, and our government still hasn't told Parliament what our plans are beyond some vague waffle about "training," something which we obviously weren't very good at in the case of the Iraqi army that ISIS thrashed. 
What would you do if you were the defence minister?
I would never have taken this decision in the first place, and following the Paris attacks last November, I would have worked with our Allies on how best to redouble the military campaign against ISIS. It might go down well with the Chardonnay-swilling Annex set, but there's nothing admirable in letting other countries do the fighting while you hide behind liberal pieties.