Architecture graduate finds inspiration for community-building in mentorship and representation
'I want to be that person for someone': When Zanira Ali didn't see role models in her field, she decided to lead by example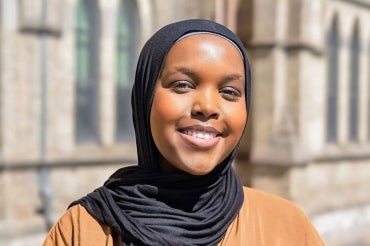 Zanira Ali chose the University of Toronto to pursue her master's studies in architecture because it was a place that she could explore her community-based approach to the field.  
"I enjoy the community engagement aspect of architecture. I want to understand and hear from communities about how they interact with public spaces," Ali says. 
Ali is graduating with a master's degree from the John H. Daniels Faculty of Architecture, Landscape and Design, determined to continue work that fuses advocacy for communities and architecture. Most importantly, she has her sights on making her mark – and impact – in mentorship within the field.  
As a graduate, Ali was a mentee with the nonprofit Black Architects and Interior Design Association (BAIDA), where she was paired with a mentor from Diamond Schmitt Architects. The program gave her a chance to enhance her portfolio and ask questions about the field.  
During her time at U of T, Ali became heavily involved in mentoring students interested in a career in architecture through the faculty. For her, it was important that students saw representation in the field.
"Growing up, it was difficult for me to find mentors – I didn't see anyone or know of someone who looked like me and studied architecture. I want to be that person for someone who is interested in the field." Ali says.  
Ali volunteered with Somali Scholars, an organization that provides mentorship for Somali youth and undergraduates. She was also a mentor with the Building Black Success Through Design (BBSD) program, a 12-week workshop series which offers weekly sessions for Black high school students interested in architecture to be mentored by Daniels Faculty students.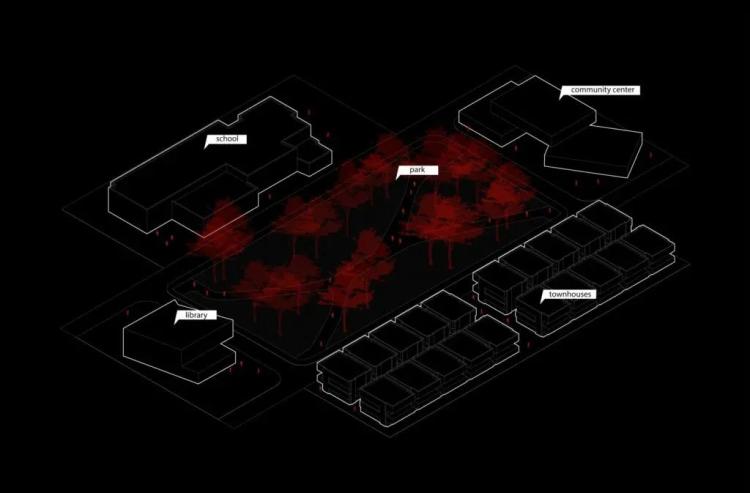 The program's theme this year was "building for belonging." Mentees made sketches and models to envision how to restructure public spaces in Toronto neighbourhoods and understand equity in architecture – a value that is the foundation of Ali's work. 
For her thesis project, presented in April, Ali explored how the architecture of prisons contributes to oppression. When she considered her thesis topic, Ali knew that she wanted to shine a light on the social aspects in architecture not typically highlighted in the field, which led her to base her project on the critique of design.  
"It's about critiquing the spaces of confinement and control that are designed by architects. These are spaces that specifically affect racialized, Black and Indigenous communities in Canada," Ali says.  
For example, the Toronto South Detention Centre cost $700 million to build – money that could instead go toward community services to build vibrant neighbourhoods and housing, Ali explains. Using this as a source of inspiration, she developed a project titled "The $69-Million Block" for her thesis presentation. 
Ali designed a model neighbourhood featuring 20 row houses and services such as a school, community centre, library and a park to demonstrate how funds could be redistributed to create neighbourhoods full of opportunity for communities that rely on public housing.  
"By using those numbers, I was able to add up to $69 million to create this community block. This demonstrates how one detention centre could build nine of these community blocks – and that's how we should be allocating the funds."
By exemplifying how funding can be streamed to strengthen communities, Ali built a case as to why prison reform is needed to break the cycle of overrepresentation of minority groups in Toronto's incarceration system.  
After convocation, Ali plans to seek out opportunities to further her passion for social justice, equity and architecture and will continue her role as a mentor with Somali Scholars and the BBSD program.  
Ali says mentoring has given her an opportunity to learn from others, and also help youth from underrepresented groups succeed – something she wants to continue throughout her career.  
"I'd like to use my experience here to further my interest in community engagement," she says.
"I'd also like to continue my thesis in the field and use architectural tools to explore the injustices in the realm of architecture and public spaces." 
Ali's advice for incoming students is to remember that personal connections are just as important as academics – and it's important to find the balance in both.
"Join a club or association to connect with different people," she says.
"Be open to trying new things – even though it may seem hard at first, especially in your first year. It will be worth it in the end."
Black Research Network