From left to right: Mo Banjoko, Phil McDonald and Wale Oyebanjo are MBA alumni from U of T's Rotman School of Management (photos courtesy of Rotman)
Be an agent of change, stay true to yourself and remain open to unexpected opportunities.
These are among the words of advice offered by successful MBA alumni from the University of Toronto's Rotman School of Management who want to empower a new generation of leaders in the Black, African-Canadian and Afro-Caribbean communities.
Mo Banjoko, Wale Oyebanjo and Phil McDonald reflected on their MBA experience and unique career journeys at the Future Black Business Leaders Conference earlier this month.
The annual event was co-hosted by the Rotman African Caribbean Business Club (RACBC) and Students Against Anti-Black Racism (SABR), two student-run groups at the school.
"Our goal for this event was to spotlight Black Excellence in the Rotman community by creating space for business professionals, faculty, students and alumni to share their perspectives and insights," says Charles Locoh-Donou, SABR's vice-president of events and co-president of RACBC.
"It also helps to build continuity in the conversation around anti-Black racism beyond the academic environment – through to its implications in corporate Canada – which is a primary element of our mandate. We're passionate about events like this as they're highly inspirational and encouraging for prospective Black students who consider Rotman in their pursuit of advanced studies like the MBA program."
Here's a snapshot of the advice Banjoko, Oyebanjo and McDonald shared with others at the event:
---
Mo Banjoko on networking in a new cultural environment
Senior Manager, Business Consulting at EPAM Systems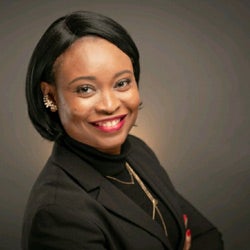 As an international student from Nigeria, Banjoko was met with a sharp learning curve as she adjusted to a new culture upon arriving in Toronto.
"Networking did not come naturally to me at all and I didn't know anybody," says Banjoko, who received her MBA in 2018 in an effort to pivot her accounting career into one focused on strategy and technology.
"Reaching out to someone on LinkedIn or being the only Black person in the room at a networking event was always a little scary."
She says it helped to change her mindset and see the discomfort as a learning opportunity.
"I've realized people are very willing to share their experiences and help you, but you also need to help them by going in prepared and being more deliberate with your questions," she says.
Working with career coaches through Rotman career services was a "lifesaver," she says, giving her tools and tricks for interviewing and presenting that she uses to this day.
"It takes a team of people to help you reinvent yourself, to give you feedback and tell you where your strengths are."
In her current role, Banjoko oversees process collaboration and stakeholder engagement in the payment systems space.
She says she's encouraged to see more Black students at Rotman, along with scholarships and funding to support future classes.
Rotman has launched several new scholarships for Black and Indigenous students, including the Morning and Evening MBA Black Students Advancement Scholarship, which was endowed as part of the inaugural Rotman Giving Day in 2021; and the Rotman African Caribbean Business Club Scholarship, which received support from the Laidlaw Foundation.
Ten per cent of the Rotman full-time MBA Class of 2023 identified as Black.
"It's moving the needle," Banjoko says. "I think it shows that if you see something around you that can be improved, you can speak up and people at Rotman want to help."
Wale Oyebanjo on the power of a diverse city
Investment Banking Associate at Scotiabank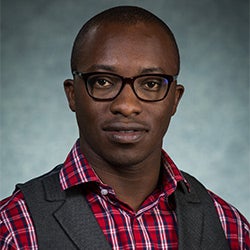 Before Oyebanjo worked in finance, he was an emergency room physician in Nigeria.
His transition into the finance industry began in Nigeria, but Oyebanjo was determined to enter the larger North American market to expand his reach in investment banking.
"Education is culture. If I wanted to understand the business culture, I knew I needed to start with education," he says. When it was time to pursue an MBA program, he looked to Rotman, since it was in the heart of Toronto, a global city and finance hub. He received his degree in 2020.
"The professors are world-class and it's a very diverse environment," Oyebanjo says. "You have people from every part of the world, so you get to see things from a global lens. That's something that stuck out for me."
He says refining his financial modelling skills was the most valuable thing he gained from the program, along with having a massive alumni network to tap into.
"That's led me to where I am today," says Oyebanjo, who currently specializes in technology and health-care deal transactions at Scotiabank.
"The upside to an MBA at Rotman is massive and you want to catch the opportunity now," he says. "There are tons of resources waiting for you to explore."
Phil McDonald on starting new initiatives at Rotman
Vice President, Business Development at Headset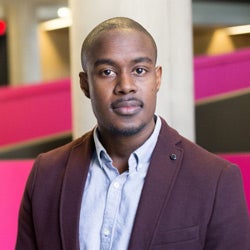 McDonald calls himself a data geek and entrepreneur at heart. It's only natural that during his MBA at Rotman, which he completed in 2017, that he started the Rotman Business Analytics Club to bring people together to build digital literacy skills.
"Data is the new oil: something that's going to drive businesses for generations to come," says McDonald, who currently leads strategic partnerships and growth initiatives at Headset, an analytics and market intelligence company focused on the cannabis industry.
"If there's something you want to bring to Rotman, you have the supports in place. If you have something in mind, it's on you to make it happen and I encourage everyone to lean into that." 
In addition to courses in strategy, McDonald says the coaching he received from the Joe Weider Foundation Leadership Development Lab in his first year of the program was invaluable to his success as a leader.
"I didn't realize that I paced a lot while I spoke, so having that real-time feedback from coaches and professors who care about your development was fantastic," he says.
His advice for those considering an MBA?
"Go in with a plan and understand what you want to get out of it and work backwards. But also, be open because you never know what could happen."