#UofTGrad16: Rhodes Scholar Kaleem Hawa
U of T offered the best of both worlds to Oxford-bound student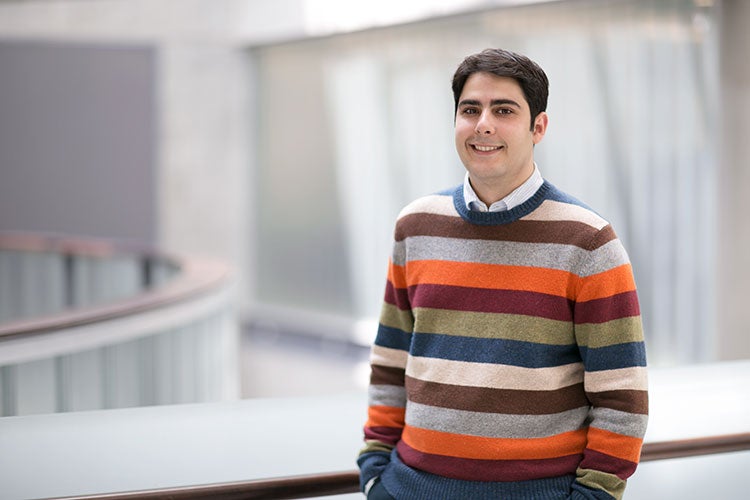 Kaleem Hawa wants to learn what motivates people (Diana Tyszko photo)
Kaleem Hawa, 22, was feeling pretty good about the history exam he had just written. One of the essay options concerned the Suez Crisis.
"That's an area I'm really interested in," said the Trinity College double major in international relations and global health. "I've just done a lot of research on the Cold War and Middle East policy."
But he had another exam to go on Thursday, in what sounds like an unrelated subject: animal physiology. "You could say that I'm very much looking forward to Thursday evening," he added.
Now Hawa is looking forward to Convocation and two years of study at the University of Oxford as one of three U of T students – along with James Flynn and Jessica Phillips – named 2016 Rhodes Scholars last fall. (Read more about Flynn.) 
They are among 13,500 U of T students expected to cross the stage at Convocation Hall to receive their degrees during ceremonies that run from May 31 until June 16.
The native of Edmonton will use his time overseas to pursue, in sequence, two master's degrees that could be seen as a continuation of his academic career at U of T: an MSc in epidemiology and global health and a MPP (Master of Public Policy) with a stress on climate change.
"These are the things I care most about," Hawa explained. "The best way to have an impact would be to learn about how they are related."
His internships – at the World Health Organization in Geneva, the Center for Strategic and International Studies in Washington, and McKinsey & Company management consultants in Toronto – have been comparably diverse.
"For me this is building a different toolkit and getting a chance to experience different types of work," he says. A career in the Canadian foreign service is one of the options he is considering.
Another internship beckons in the summer, as a policy consultant in the office of Premier Kathleen Wynne. Then comes a visit with relatives in Lebanon – his parents came to Canada from the war-torn country in 1988 – and a spontaneous side trip to Greece and Cyprus. 
That adventure will be solo. "I feel it would be good to spend some time with myself," Hawa says. "I find [as a student] you're always go-go-go and there isn't a lot of time to stop and reflect."
Nor does an intense double major allow for many electives in literature. There will be some books in the luggage, recommended by Dale Churchward, one of his teachers at Upper Canada College in Toronto, where he earned an International Baccalaureate. Ernest Hemingway, Cormac McCarthy and Pablo Neruda are some of the authors.
"I feel unsophisticated in this area," Hawa said. "I want to catch up."
The basics lead the list of what he likes best about U of T.
"Academics are really strong," Hawa said. "I feel I've learned a lot from really, really good professors. And it's a beautiful campus in a big metropolitan centre. You get the best of both worlds."
Hawa is grateful for two smaller communities of which he was a part: Trinity College and Hart House Debates. "I met bright and talented people who were interesting," he said. "And I had really good conversations. That is what I am most on the lookout for – learning about people and what they actually care about, what motivates them."
He has made an impression on his teachers as well as fellow students. "Mr. Hawa is an exceptional student leader who has contributed to the vibrancy, civility and richness of our community," says Professor Joy D. Fitzgibbon, a fellow of Trinity College and instructor in the Margaret MacMillan Trinity One Program.
"He has a sharply analytic and curious mind that is truly interdisciplinary and enables him to understand the political mechanisms through which we may respond to complex challenges in global health.
"His commitment to push the boundaries of scholarship, alongside his rare combination of social skills and his nimble capacity to build strategic coalitions across diverse communities, empower him in his long-term aspirations to meet the needs of those who suffer from preventable and treatable illness."
Does Hawa have any tips on how to succeed as an undergraduate?
"Well, I don't want to presume to be able to dispense wisdom to someone who is only a few years younger," he began. "But I didn't take any morning classes after first year."
The paradox is that Hawa is, in fact, a morning person. Sometimes he finds himself at Starbucks at Bloor and Bedford at 6 a.m.
"I find that mornings are quieter," he said. "Mornings are a good time to focus on what matters, before everyone wakes up and your phone is buzzing."
Hawa still takes notes by hand in a ring-spine notebook.
"It's neater on the laptop, and faster, but you're distracted," he said. "I'll start checking my email."
Hawa agrees with Flynn on the utility of a calendar. Put the commitments in writing and stick to them. He compares the process to opt-out organ donation programs, which inevitably yield better results than the opt-in alternative.
"It's the same with a calendar," he says. "Once it's there, it's harder to cancel it."
For physical recreation Hawa relied on Wall Ball, the venerable Trinity College handball game that takes place spontaneously under Henderson Tower.
"There's nothing formal about it," Hawa said. "Everyone just comes down on the way to classes and plays a couple of rounds.
"I don't believe that I have the intrinsic motivation to run marathons or even run on a treadmill. This is a social sport. It's a good community experience."
Hawa is also positive about living on campus. As a BMO Loran Scholar, he lived in residence for his first two years and got used to the camaraderie that came with it.
"Because of social media, the bonds that people make are not as strong or as deep as they were in the past," he said. "You have more connections and relationships, but they are more superficial.
"At U of T I had the chance to have genuine friendships. I didn't feel I had to try to get to know someone."