Getting ready for #UofTBackToSchool with Jooyoung Lee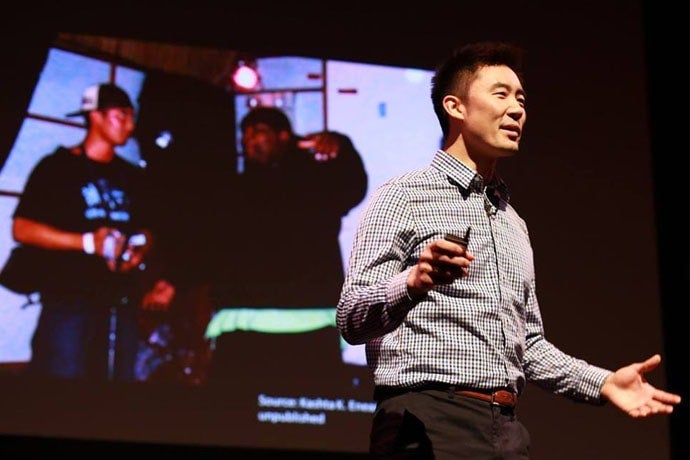 Getting ready for #UofTBackToSchool with Jooyoung Lee
Photo courtesy of Jooyoung Lee
Jooyoung Lee has a lot to look forward to as a new semester starts. The sociology professor, who recently received tenure, is teaching a third year course called Sociology of Serial Killers and a second year course on qualitative methods. He is also rolling out two new interactive textbooks on the same topics (his textbook on the sociology of serial killers is co-authored with Sasha Reid, a PhD student at OISE). Lee shares how he has been getting ready for the start of the fall semester.  
What does the start of the semester mean for you? 
It's a new beginning.  It's a chance to grow and expand my teaching repertoire.  I always like to tell students about my somewhat unusual path into academia on the first day of school.  I went to university (at UC Berkeley) on a swimming scholarship and was mostly focused on training.  I swam for three years and then experienced burnout and decided to really focus more on my studies.  This led me down an interesting path where I became a street performer and "popper" or "pop-locker", which is a style of funk-hip hop dance.  
My experiences in the Bay Area dance world got me really interested in researching hip hop culture. I found that I really enjoyed doing ethnographic research, which involves hanging out with people and writing about their lives from an up-close perspective.  I tell them about my path because I want them to see that you can achieve a lot of things even if you aren't from a certain type of family, or even if you sometimes feel lost.
What are you most excited about the start of this semester?
I'm most excited about working with the students.  I really enjoy mentoring and love it when students get into the course materials. I'm also really excited to use these new interactive textbooks. I already like using a ton of multimedia (i.e. YouTube, music, movies, documentaries, Twitter) in my courses. This new platform represents an extension of my overall interest in using technology to enhance the learning experience of students.
"This clip of Zach Galifianakis interviewing Justin Bieber is great because it shows someone violating many of the taken-for-granted rules of 'good interviewing'," says Lee. "My interactive qualitative methods textbook has a chapter about interviewing. In one part, I walk readers through the importance of establishing rapport and making the interviewee feel comfortable." 
What makes you nervous about the start of this semester?
To be honest, I still get nervous about the first day of school.  Even though I have been doing this for the past six or so years, I still get the "jitters" right before I step into the lecture hall.  I think a lot of professors feel the same way.  But, this is almost always a good sign, as it tells me that I'm excited about the course and want to do a good job.  I think I'd be worried if I felt too relaxed at this point.  
How did you prepare for a new semester? 
I prepared by reading a lot and consuming as much multimedia as I can.  For instance, this summer I read a bunch of true crime books to figure out which I'd assign in my serial killer course.  I also spent a lot of time watching movies, browsing YouTube, and finding interesting bits of multimedia to use in my courses.  This is one of the hardest – but most rewarding – parts of class preparation. This is all fun work, though.  I enjoy staying "current".
Lee shares the above interview with Ted Bundy with students in his serial homicide course. "I think it's important to hear serial killers describe – in their own words – why they did what they did. This interview is chilling and it raises all sorts of interesting questions about how other serial killers might be stopped in the future."
Subscribe to the Bulletin Brief