Newly appointed director of Centre for Research & Innovation Support building one-stop support hub for U of T researchers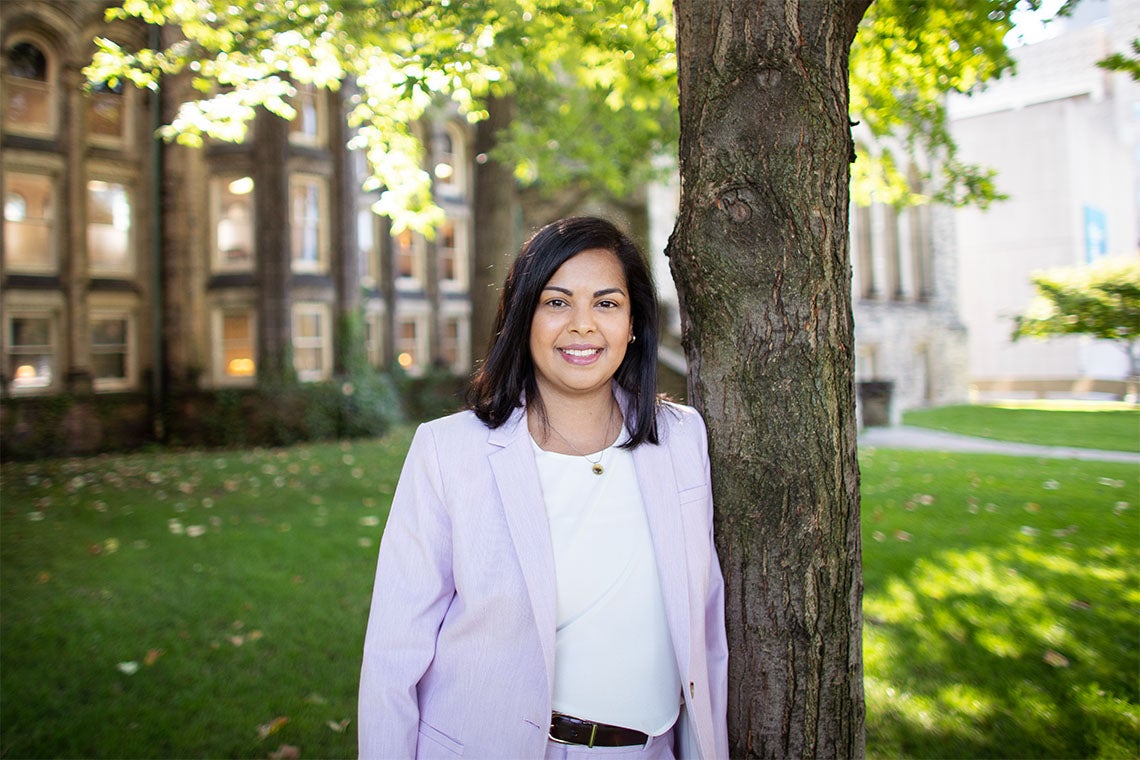 (photo by Nick Iwanyshyn)
Supporting research and innovation is a key priority for the University of Toronto – which is why it launched the new Centre for Research & Innovation Support (CRIS) earlier this year.
The new centre will be a highly visible, one-stop shop where researchers can easily access the information, training and tools they need to accelerate their work.
Improving access for the tri-campus community, CRIS brings together the expertise and strengths of the Division of the Vice-President, Research and Innovation (VPRI), U of T Libraries and Information Technology Services.  The strong partnership between portfolios is one of the key opportunities that CRIS will leverage.
The centre will proactively help U of T researchers stay abreast of emerging research issues – such as best practices in data management and equity, diversity and inclusion (EDI) considerations – and boost the university's capacity to undertake the cross-disciplinary and cross-divisional research collaborations that are needed to tackle today's most complex problems.
"CRIS was conceived as a single hub and tri-campus connector where faculty can come and ask, 'What supports are there for me and my research?" says Vinita Haroun, the centre's newly appointed director.
A U of T health administration alumna, Haroun brings 15 years of research and innovation experience to the university. She spent the past decade building up the research unit at Public Health Ontario and driving a culture of learning and innovation at the Ontario Long Term Care Association.
Haroun recently sat down with the Bulletin Brief to discuss how CRIS will bridge and amplify existing supports for researchers at the university – and streamline the process needed to access them.
---
How will CRIS help change how U of T faculty access research support?
If a faculty member wants research support, there's no single point of contact to go to right now. It's not that the supports are missing, but they're not always visible or easily accessible. A recent scan of research support offices found over 140 different education sessions and resources to support faculty. Also, the structures that we have in traditional research administration are very focused on a particular stage of research – such as pre-grant support or post-award contracts and split between central and divisional offices. CRIS can cut across them all and bring together what I see as key areas of support our faculty need going forward. That's one of our key deliverables in the first year: coming up with ways to make these existing services more visible, including training and a centralized calendar.
What are the priorities for the first year of CRIS?
The first job is talking to and meeting with faculties, deans, vice-deans, principals and staff to get a sense of what their needs are. Where are the gaps and emerging issues, where are the examples of excellence that we can amplify? What else can we be doing to support them to get to the next stage? Then we're looking to establish an advisory committee that will continue to give oversight to the work of CRIS. The third task for me is to build up the office. We are currently recruiting for two positions in the fall: a research and innovation liaison and a library liaison. The fourth is moving forward on creating a physical space, at the Gerstein Science Information Centre, and an online presence.
U of T research spans many disciplines and its researchers are world leaders in many fields. How will CRIS support the cutting-edge research at U of T?
The premise of CRIS aligns with Vivek Goel's recently expanded portfolio as the vice-president of research, innovation, and strategic initiatives. We're thinking about what the next piece of the puzzle is for how we can support research and innovation at U of T. We're also thinking about how we can support interdisciplinary research activities. The role of CRIS is to draw together these amazing resources, which can sometimes feel siloed or decentralized across the tri-campus community or across the libraries, ITS, VPRI and divisional support offices.
One of the key roles of CRIS is to proactively identify emerging issues and work collaboratively with faculties and divisions to ensure that we're developing complementary supports. Supporting interdisciplinary research is a good example of that. Interdisciplinary research isn't a new concept, but it's especially significant for U of T since we're one of only eight universities in the world to rank in the top 50 in all 11 broad subject areas tracked by Times Higher Education. There's an opportunity here because many of what we think of as the bigger societal questions – the classic examples being climate change or public health – require working through the lens of multiple disciplines. The Schwartz Reisman Institute for Technology and Society is another great example of where humanities and technology are going to come together. We have deep expertise in many disciplines.
We can also develop complementary supports – whether that's providing access to a new research technology or tool, sharing resources or hosting training sessions - we want to give our faculty a competitive advantage that way.
Addressing equity, diversity and inclusion is another emerging issue that CRIS is working proactively and collaboratively on with other offices. Alongside the Research Services Office and institutional strategic initiatives, CRIS is developing workshops around integrating equity, diversity and inclusion considerations into research and team-building.
Supporting equity, diversity and inclusion in research and innovation is another key priority for CRIS. In the coming weeks VPRI, specifically Christine Allen, associate vice-president and vice-provost, strategic initiatives, and Andrea Gill, research equity and diversity strategist, are hosting workshops for faculty about integrating equity, diversity and inclusion (EDI) considerations into research and team-building. CRIS's role is to work collaboratively with VPRI and divisional colleagues to help researchers learn about these, and future sessions, and to ensure they have access to appropriate EDI resources.
What drew you to this role?
CRIS is so brand new that it almost feels like a startup. That aspect is really exciting to me. Coming into this new initiative where there's an opportunity to support capacity and develop solutions, but also having the benefit of the existing strengths of the U of T community is really the attractive part for me.
For me, I've been drawn to roles which were focused on how to enable research to have broader impact. That's what drew me to public health, and to my work in seniors' care and also what drew me here as well.  
Subscribe to the Bulletin Brief